Recently, Instagram has started offering a limited amount of users access to their "Live Producer" tool. This is slowly being rolled out to users- all users do not have access to this feature yet. If you have access to Live Producer, you can use StreamYard's Custom RTMP option to stream to Instagram using StreamYard! More specific info and tutorial on using Instagram's Live Producer can be found in their help doc here.
Do I have access?
1. To check if you have early access, head to instagram.com in your browser. (This feature is currently only available on desktop on instagram.com, and not within the app itself).
2. Click on the Create button on the left hand side. If you have access to Live Producer, an option will appear for you to either choose Post or Live Video. If you do not see these options, and it immediately takes you to the post creation window, you do not have access to Live Producer.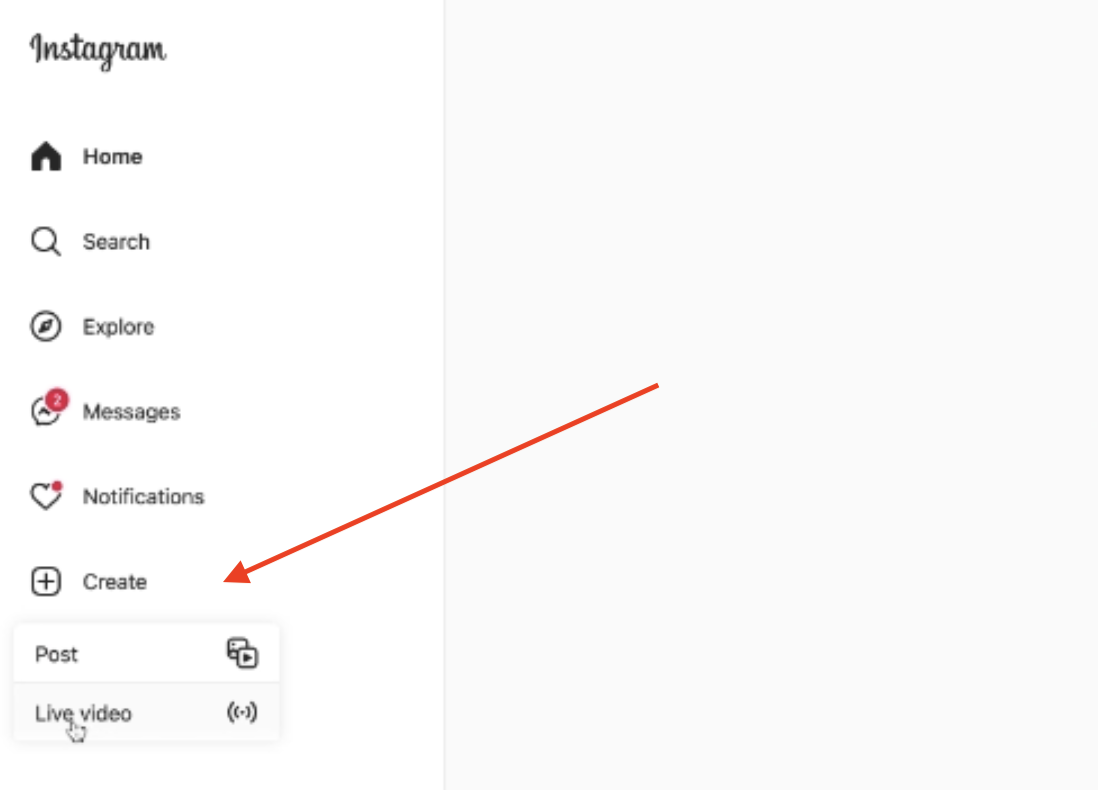 2. Click Live Video. Here, you can title your stream and set your visibility to either "Public" or "Practice". A practice stream will only be seen by you, and a public stream will be seen by all your followers. Once you've selected your desired settings, click Next.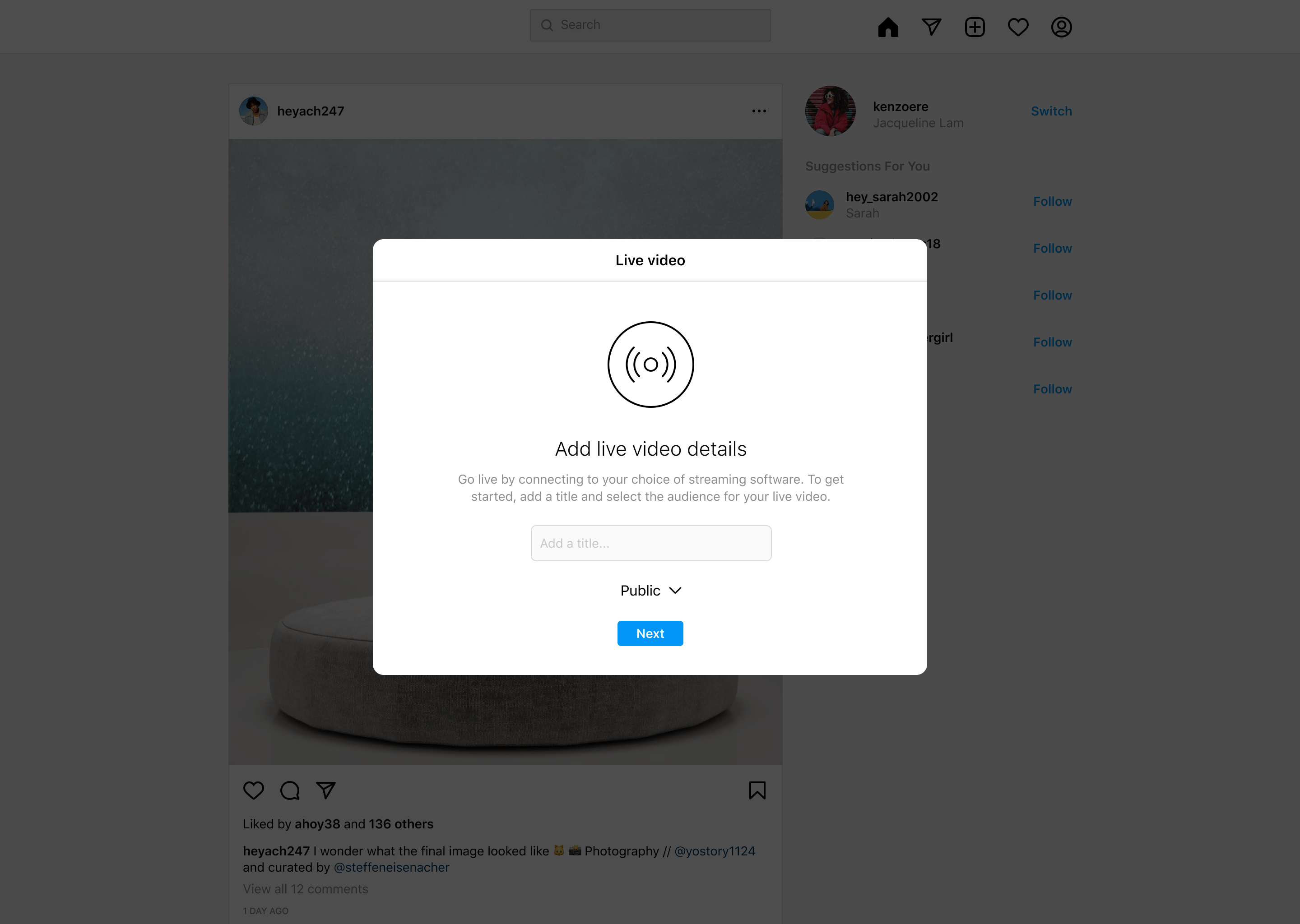 3. You should now see a window containing your Instagram URL and Stream Key. Head on back over to StreamYard. Go to your Destinations tab, click "Add a Destination", and then Custom RTMP to open the window where you can add your Custom RTMP destination.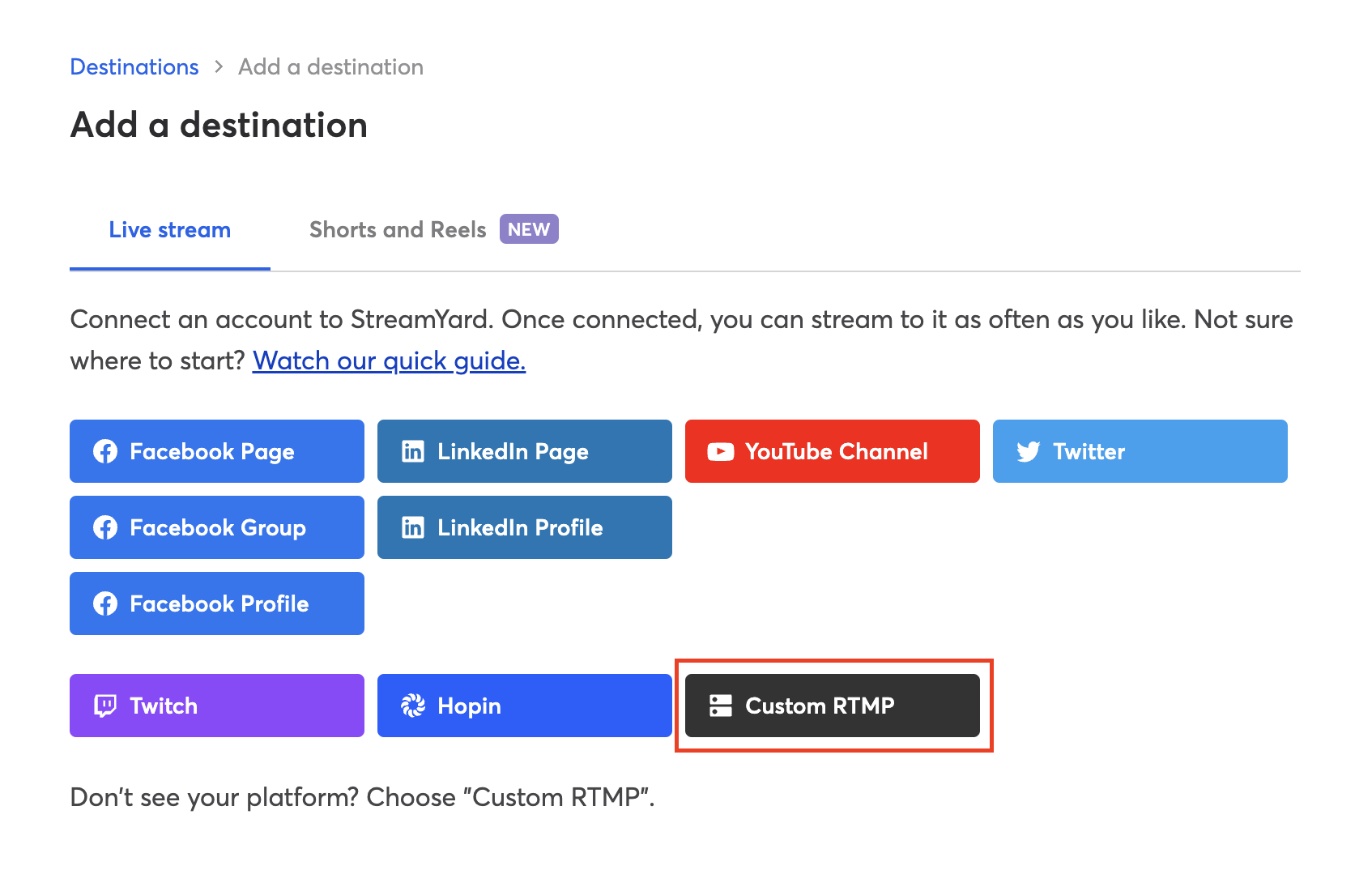 4. Copy the URL and Stream Key provided by Instagram, and paste them into the corresponding sections on StreamYard. Click Add RTMP Server when finished.
Note: The stream key will change for every broadcast. More info here.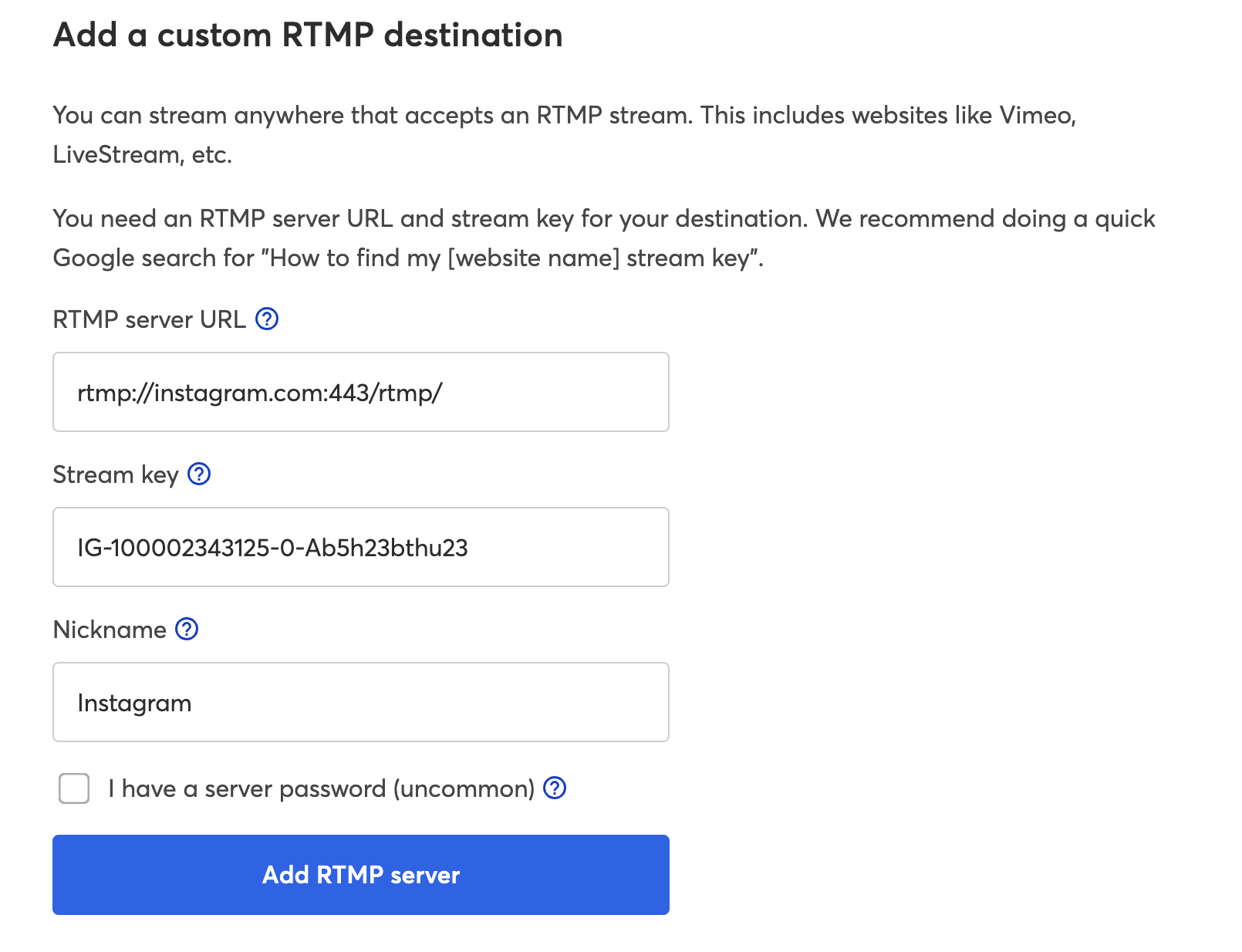 5. Go to your Home page, click the Create button, and then click Live Stream to create a new broadcast. Here, you can select the RTMP destination you added and create the broadcast studio.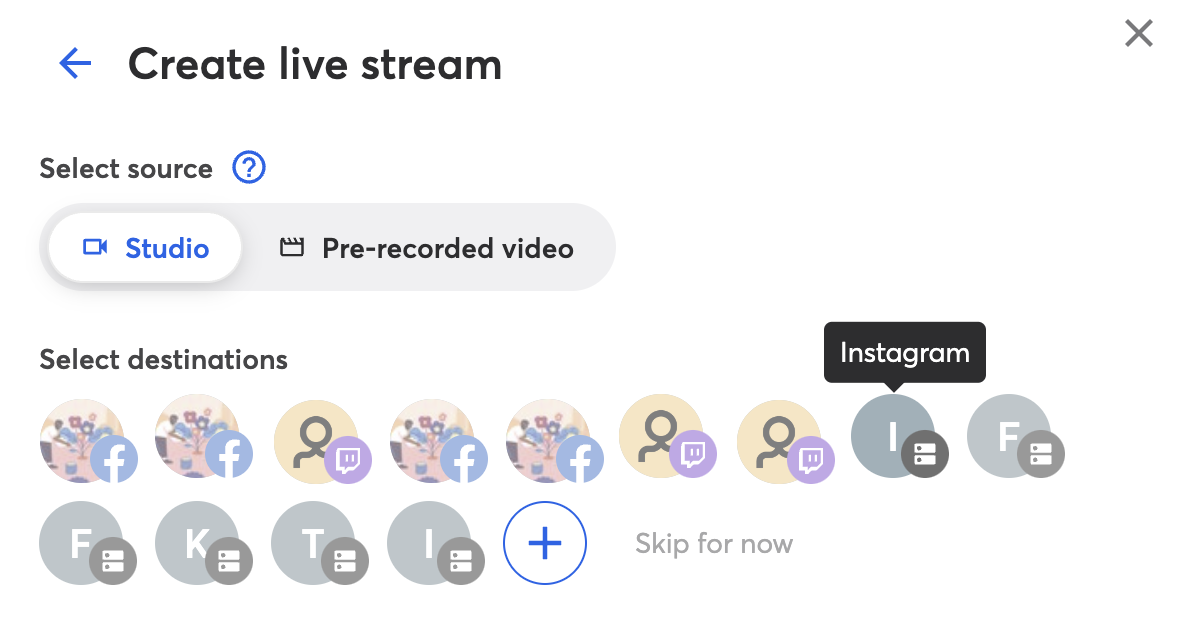 6. When you are ready, click "Go Live" inside your StreamYard studio first, to begin sending your live video feed to Instagram.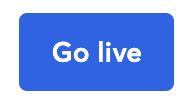 Your video should appear in the "Preview" section on Instagram. You can then click "Go Live" on Instagram, to begin broadcasting! You must click "go live" on both StreamYard and Instagram.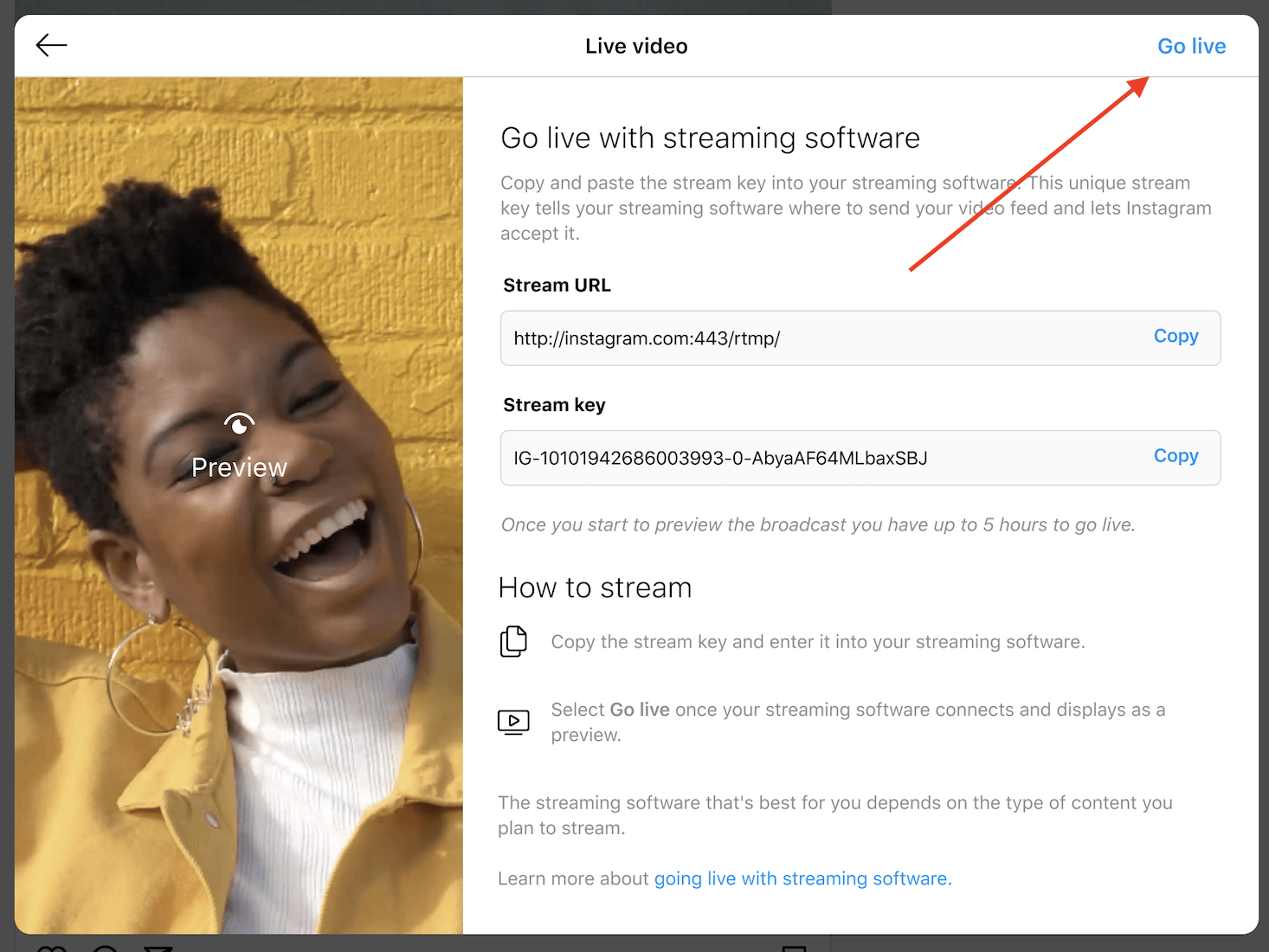 7. Once your livestream is finished, click "End Live Video" on Instagram, and "End Broadcast" in StreamYard.
FAQ
Will I be able to see comments from Instagram in StreamYard while streaming?
Unfortunately it is not possible to see comments inside your StreamYard studio when using Instagram Live. In order to see comments, you would need to keep the stream window open on Instagram to see them directly there.
Does StreamYard stream or record vertical video (9:16 layout)?
No, StreamYard does not stream vertical video at this time. All streams are in a 16:9 horizontal (widescreen) format. When streaming to Instagram, your video feed will be cropped to only show the middle portion, in order to fit within Instagram's vertical video format.
Can I post clips of my streams to Instagram Reels?
Yes! You can use our Shorts/Reels feature to trim and post clips of your streams directly to Instagram Reels. More info here.