StreamYard offers local recording! Sometimes, unexpected internet issues can interrupt a perfect recording and cause quality drops or complete freezes. With local recordings, you can download the perfect quality recording of each individual video and audio track, to edit together. 
What are Local Recordings?
Local recordings are studio-quality, individual audio and video recordings of each host and guest recorded directly on the device. This allows you to create high-quality, freeze-free recordings regardless of your internet connection.
The local recording feature allows you to download the individual video file and individual audio file from each participant in the live stream or recording. Significantly improving the quality for your post-production editing. 
What does "Separate" audio and video files mean?
Separate means that there will be both an individual audio file and an individual video file(with audio) for each participant in the stream. You can also download the separate tracks for each screen share, slides, and videos that were shared during the recording.
This is an example of a separate local file of one participant: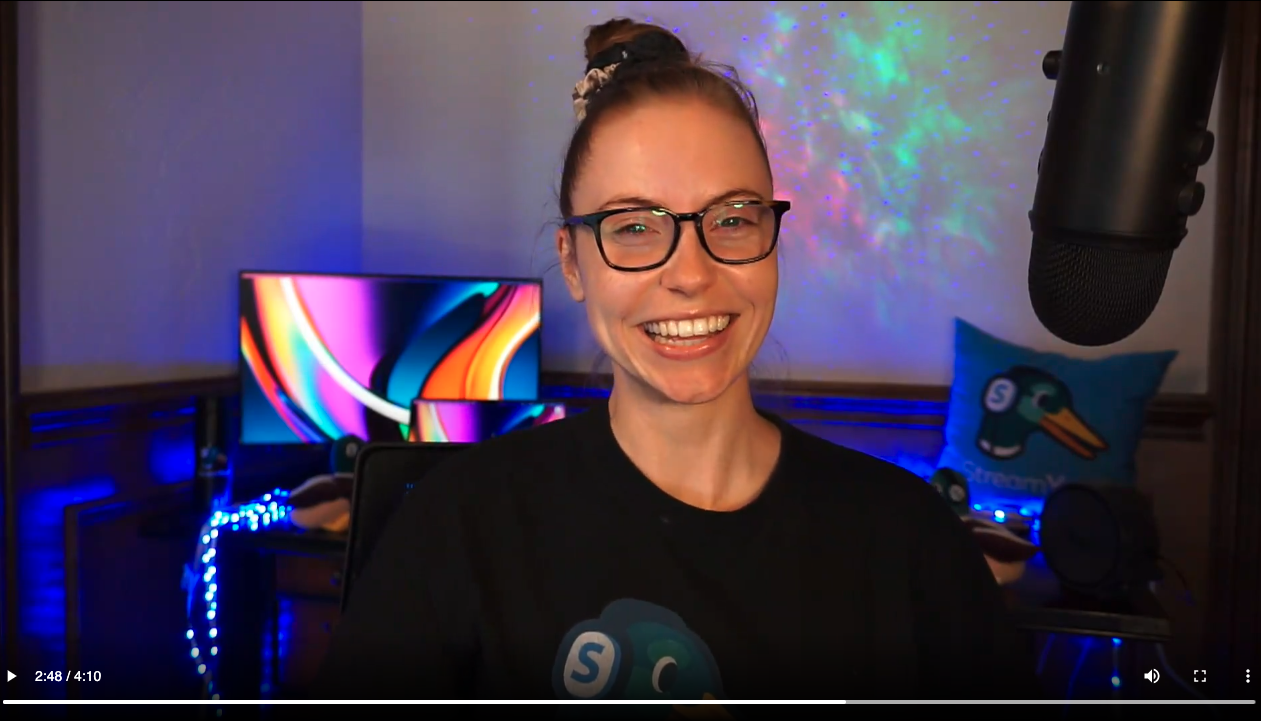 Can I download the mixed local video file?
No. You cannot download the local mixed version of your whole stream, but this feature is coming in the future. You can only download the cloud-mixed version. The mixed version means the entire stream or recording --  including all participants, all the banners/logos/backgrounds etc. 
This is an example of a cloud-mixed recording.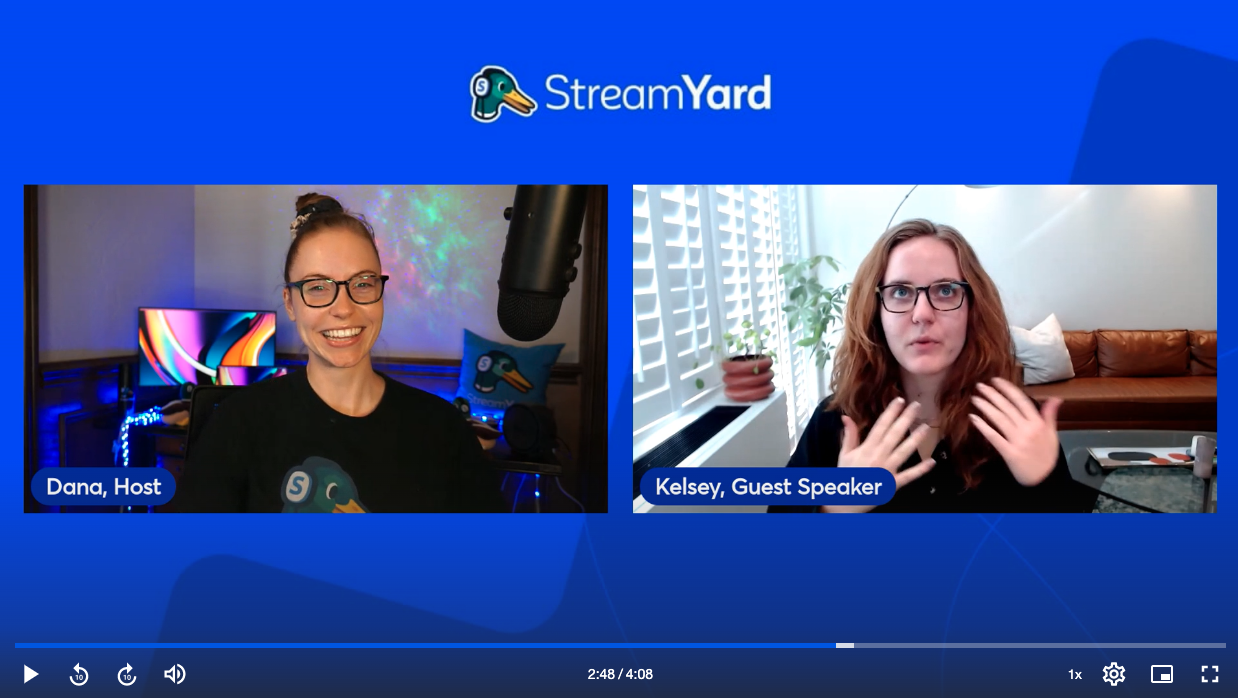 How to Enable Local Recordings
1. Enter the studio and click Settings.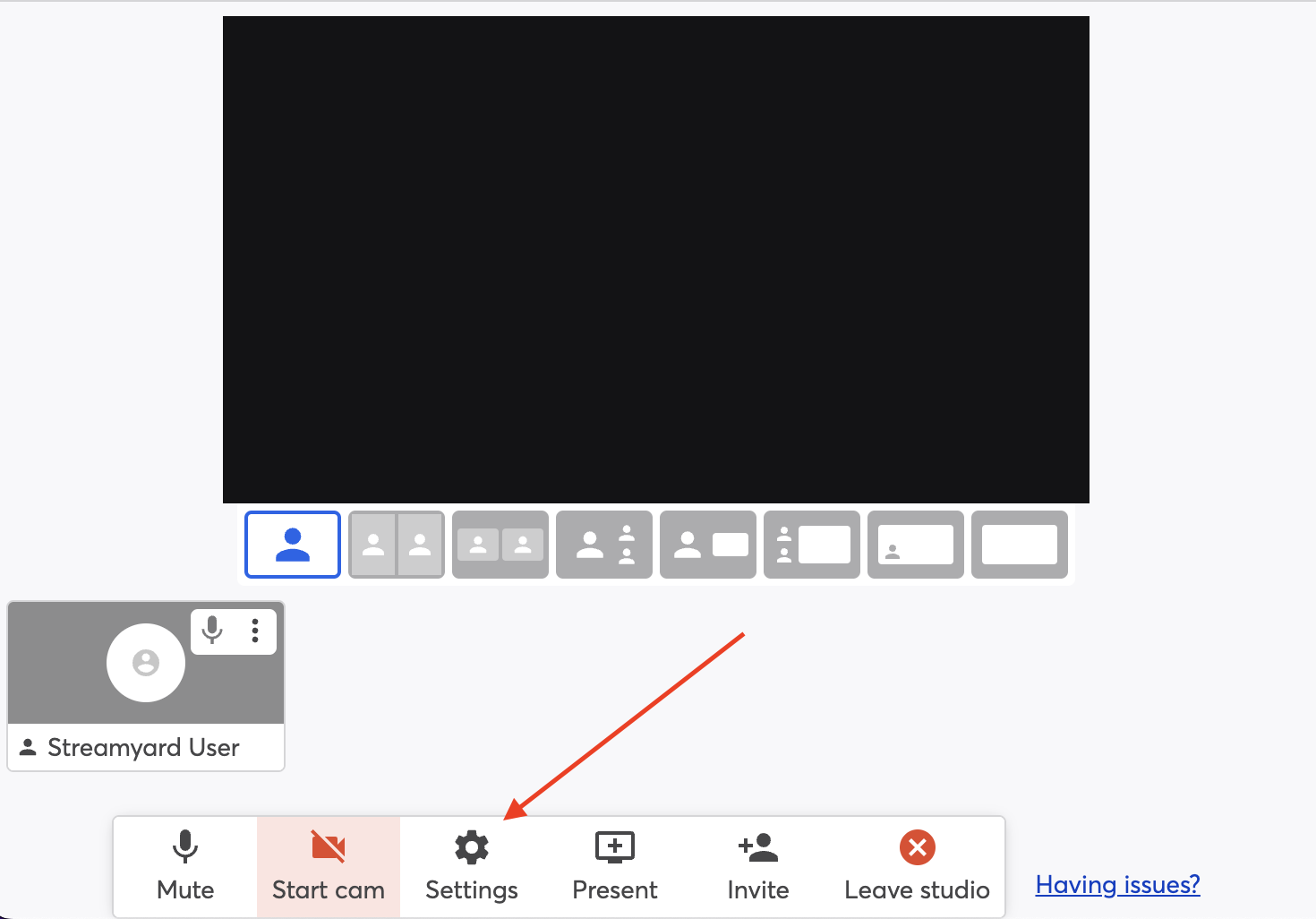 2. Select the new Recording section.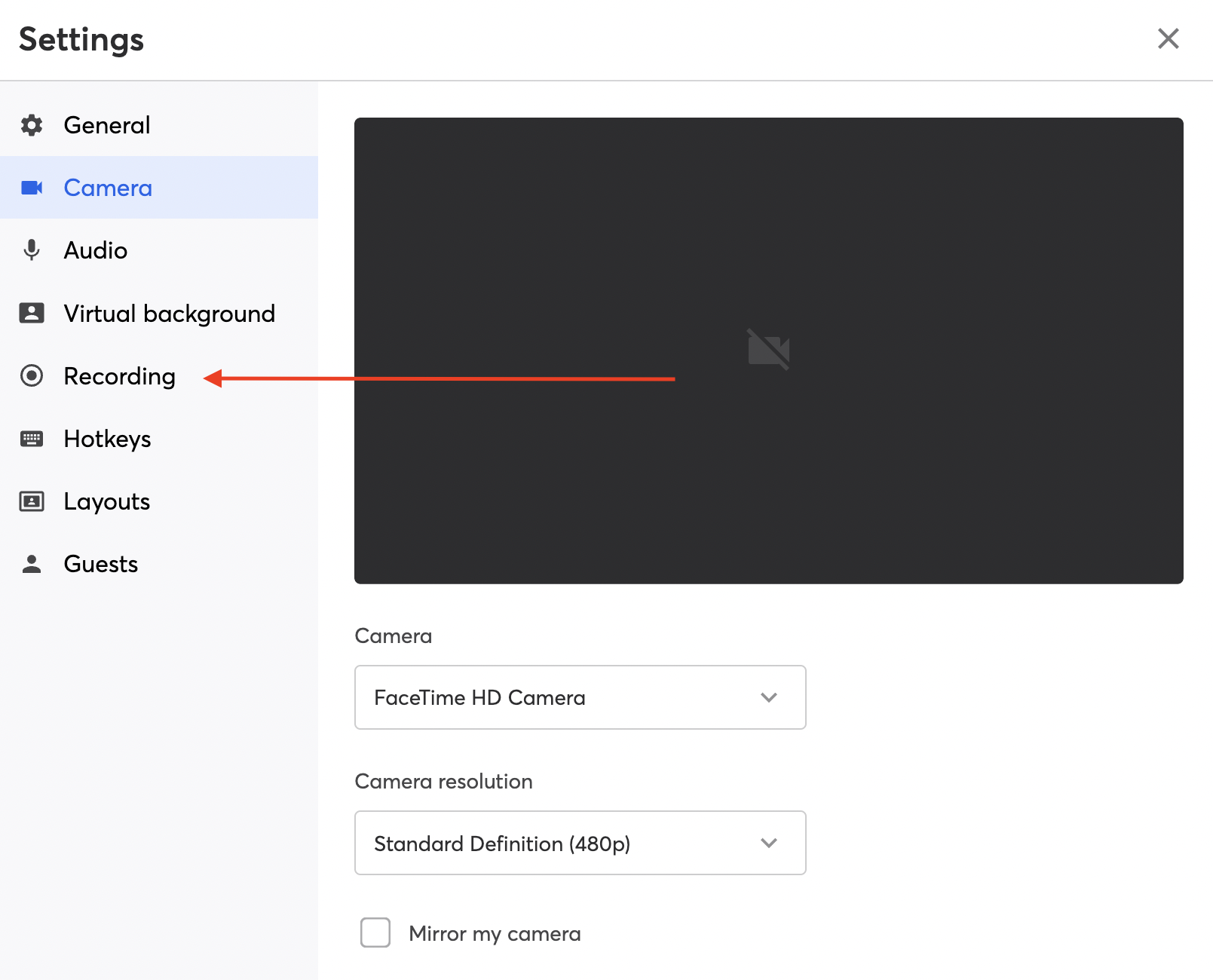 3. Check the box to Record locally for each participant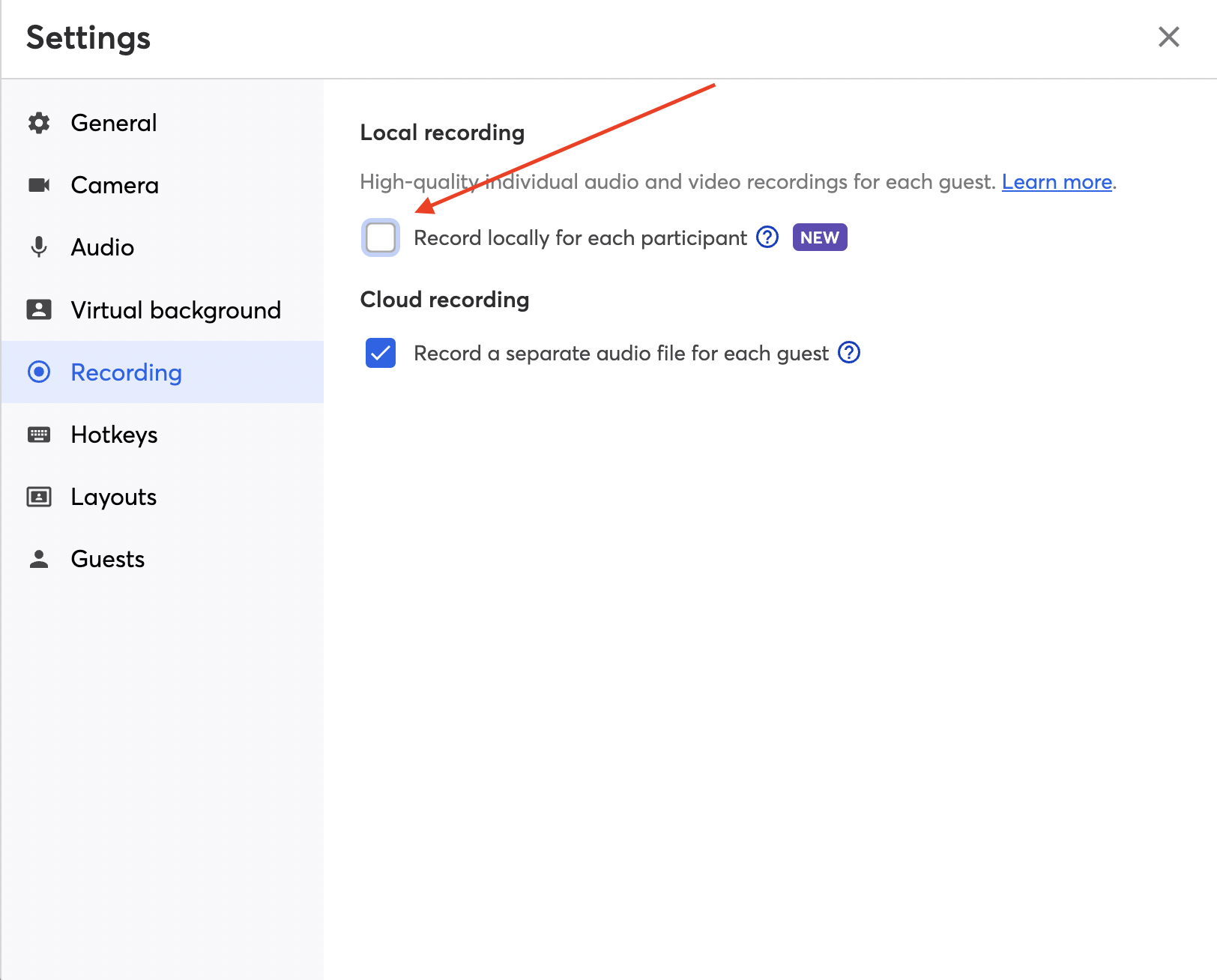 4. Then select either Record audio and video or Record audio only.

How Does It Work?
Once you enable Local Recordings, StreamYard will record a separate video and audio file of each participant during the recording, in the browser's local storage. This means that the quality of the recordings is not dependent on your internet connection. 
After you enable Local Recordings, when your guests join your studio they will see this message: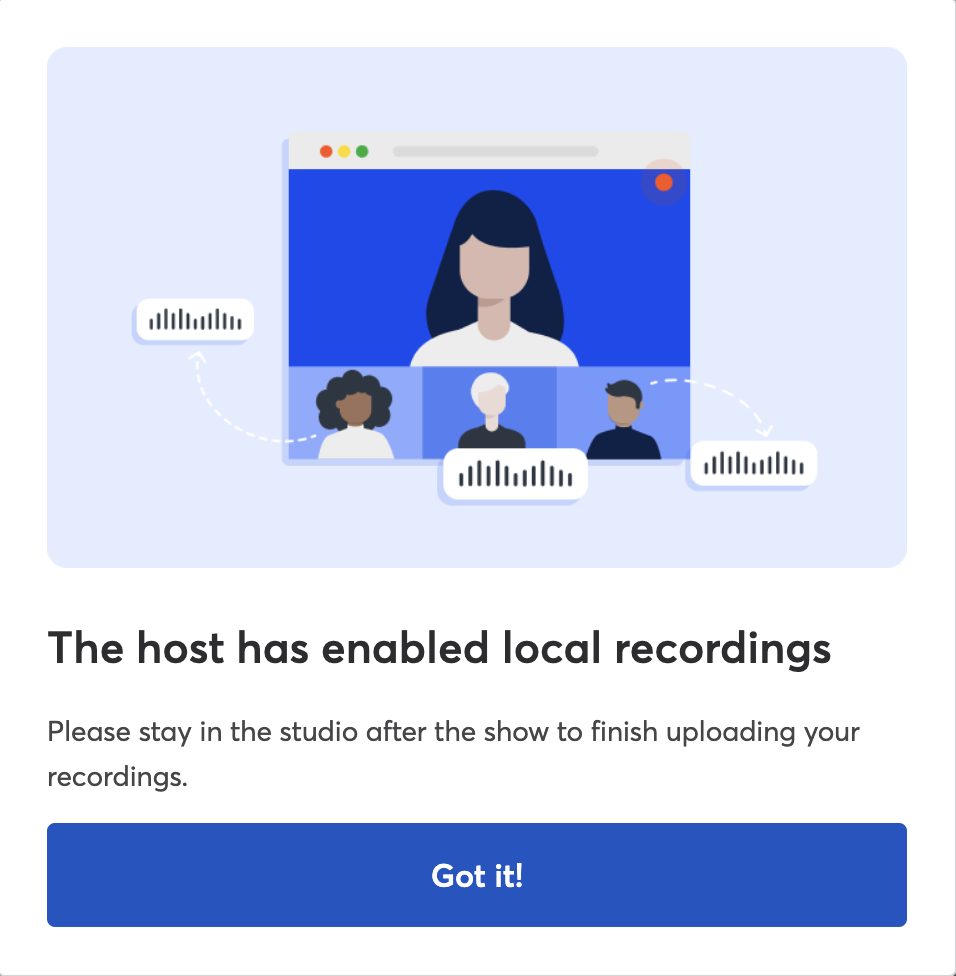 Once all your guests have joined, you can click the Record or Go Live button. You will see a popup window confirming your selected settings for your Local Recordings if you've enabled it. You can click the pencil icon to edit your settings, or click the Record/Go Live button again to begin your recording/stream.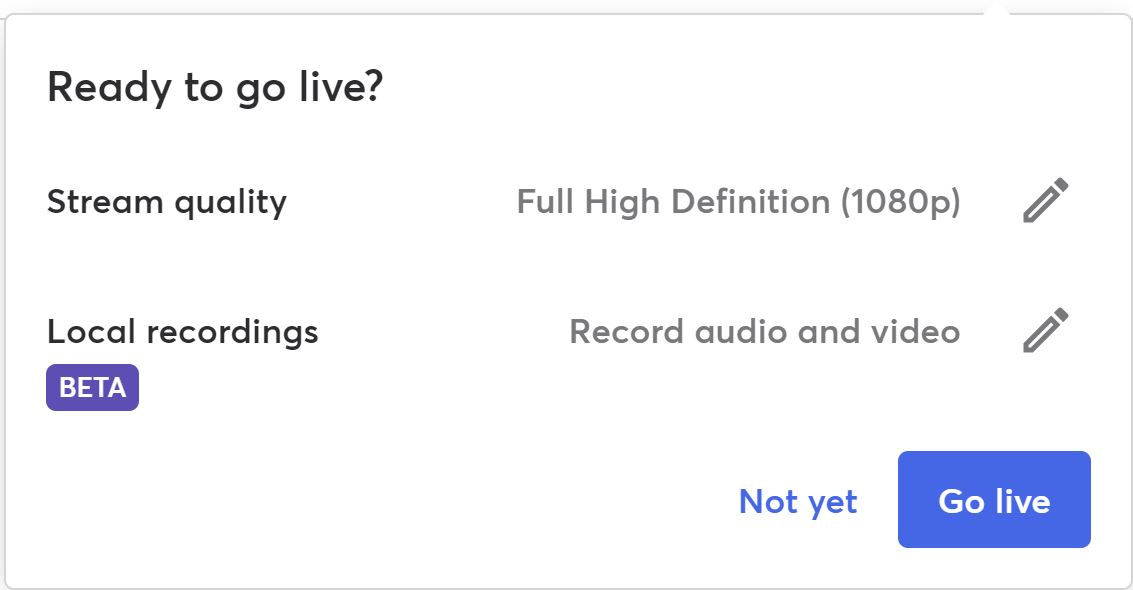 Once you've finished your recording, all participants should remain in the studio until their recordings are finished uploading. The upload status of each participant's recording can be seen by viewing the new "Recording" tab on the right-hand side of the studio.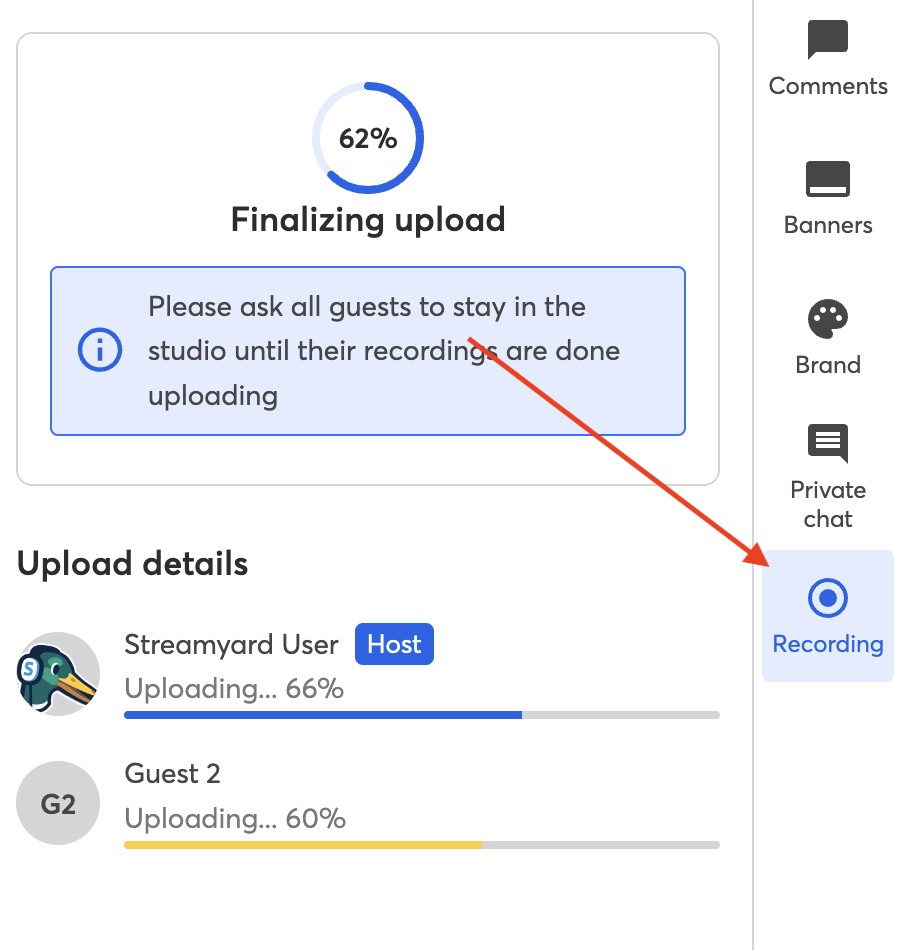 Once all recordings have finished uploading, you will see this confirmation here: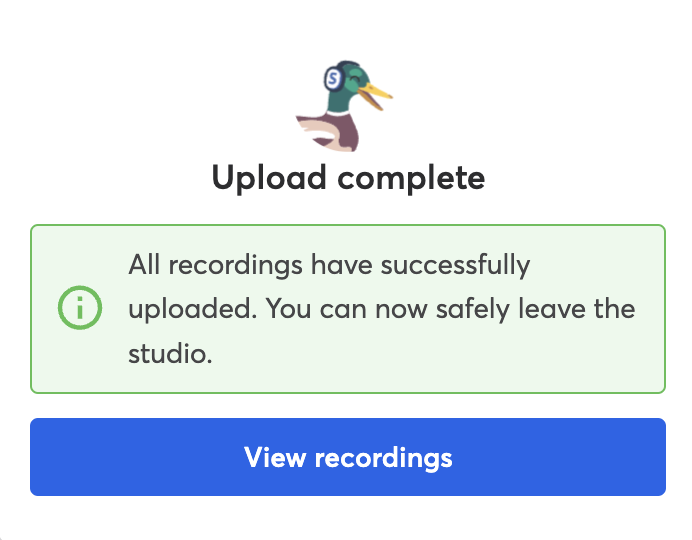 You can click "View Recordings" to take you to the recordings dashboard, where you will be able to download both your local, and cloud recordings. You can also click the Export button to export your recordings as project files for easy editing! 

Notes On Local Recordings
If the participant's internet connection is fast enough (4mbps or higher), the local recordings will be uploaded during the recording or live stream. In this case, the files would be available immediately after the stream.

The amount of storage space that is required on the device being used will be dependent on the length of the recording. We recommend participants have 5GB of storage available on their device before recording. This should be sufficient for most people. The recording is often times being uploaded at the same time as well. 
A browser only allows websites to utilize a percentage of the available storage space on the hard drive and this can vary between browsers (Chrome only lets us use around 60% of the available hard drive space and Firefox allows 50%)

Local recordings capture a clean feed from all participants' audio and video, so Brand assets (overlays, backgrounds, etc...) will not affect or appear in recordings.

If we detect that a guest or host is struggling to upload their local recording segments while local recordings is enabled and the broadcast is streaming, we will temporarily pause the local recording uploads and prioritize their bandwidth for the stream. Once the stream has ended OR their connection has improved during the stream, we will resume uploading the segments of their local recordings.
We recommend against using a "private window" (incognito) as it limits the storage that your browser can access and it won't save the file if you close the window before the upload finishes, as private windows don't hold temporary data once closed.

We recommend ensuring that the web browser being used is up to date. Using an out-of-date browser may affect your recordings. 

Please double-check your Chrome settings to make sure "Clear cookies and site data when you close all windows" is not enabled. For Firefox, you'll want to make sure that the setting "Delete browsing data on quit" is not enabled. Learn more about that setting here. If it is, please disable it for the browser that is being used.
FAQs
What plans is this feature available on? 
All plans have local recordings! The free plan is limited to 2 hours per month of local recording (and can only be used in recordings(not live streams). All paid plans have unlimited local recording!
What if my guest accidentally leaves before the upload is complete?
Not to worry! Your guest can return to streamyard.com/upload up to 90 days after the date of the recording to finish uploading.
My local recording upload is not working.
When you have multiple StreamYard tabs open only one of them will win the election to upload. Please try closing fully out of all other open StreamYard tabs, and going to streamyard.com/upload on the same device/browser used for the live stream! Learn more about troubleshooting local recordings here.
Does my network speed matter?
While you want to have a good connection for streaming to destination sites and to ensure you and your guests have smooth, uninterrupted conversation, the local recordings feature is independent of your network speed!
Does the extra camera angle have its own recording?
Yes! All video feeds for participants in the studio will have local recordings.
Do local recordings take up storage space on my StreamYard account? 
Your total recording hours are not affected by the multiple files that are produced by Local recordings. For example, you record a 1 hour podcast with yourself and one other guest. Two full files are created, but the recording will only count as 1 hour toward your recording limit.
Will my audio be heard on my guest's local recordings? 
When local recordings are created for you and your guests, each individual recording will only contain the video and audio for that specific participant. Separate video and audio tracks are truly separate -- they do not include other guests' audio or videos. 
Why are individual audio recordings WAV files, and not MP3?
When Streamyard generates an individual audio recording for each participant in the stream, these will be downloadable as WAV files. WAV files are generally lossless and not compressed, meaning they will be higher quality for video and audio editing than an MP3 file! When you download the combined audio recording for the stream, this will be an MP3 file. 
Why is my guest's audio recording multiple files in the Cloud, but not Locally?
When you add and remove a guest from the stage in your studio, StreamYard will create a separate audio file in the cloud for each time they are added. When you download the audio recordings from the "Cloud Recordings" tab, you will receive a zip folder that contains these individual files. The local video/audio recording for this guest will only be one file (with a blank space in the middle during the portions this guest was not added to the stream). However, if this guest fully leaves the studio and reenters, a separate video/audio recording will be created for them upon reentering.
Are there any specific audio and video recommendations for local recording? 
No. The same recommendations apply to local recordings and regular streaming. These are:
1080p HD, 4500kbps video bitrate
720p HD, 3000kbps video bitrate
The audio bitrate is 128kbps.