Adding pre-recorded videos to your live stream is a great way to make your streams more professional. You can upload and play intro/outro videos, countdown timers, and any other video clips. Video clips must be shorter than 10 minutes. If your video is longer than 10 minutes, you can stream it with the local video file-sharing feature. Here's how. 
How to Upload Your Videos
If your video is less than 10 minutes and under 200 MB (60 minutes and 1.2 GB for StreamYard Business), you can upload it in the Video Clips section in the Studio. 
Click Brand Tab

Click upload in the Video Clips section
Videos must be MP4 files. MOV and MV4 files are not supported.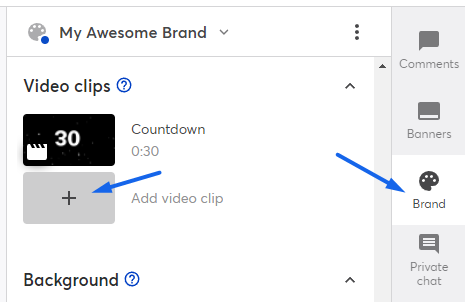 You can also share other video content from a Chrome tab with screen share (this is not optimized for playing videos). Make sure you click share audio on the Screen Share pop-up if you want the video's audio to be captured in your stream. For more information on how to screen share, visit our doc on Screen Sharing.