Hearing clicking/popping sounds, or distorted/muffled audio while streaming and recording? Here are a few troubleshooting tips we recommend!
Test your Audio
1. Head to this microphone test site.
2. Click Check Microphone.

3. Select the correct mic device from the dropdown menu, and click Start Recording to start a test recording. 

4. Speak into your microphone. You should be able to see the blue waveform move in response to your voice. When done, click Stop Recording. 

5. Click the play button to listen back to your audio quality. If you hear quality issues on this test site as well, this may indicate that you need to adjust/troubleshoot settings directly on your audio device.

Try a different Browser
Sometimes, audio can be affected by the browser you use to join StreamYard. Our recommended browsers are Google Chrome and Firefox. If you are using Google Chrome, try using Firefox instead (or vice versa). We also recommend disabling any extensions you have installed that may affect StreamYard.
Check your StreamYard Settings
When using high quality mic devices with StreamYard there are a few settings we recommend adjusting to get the most out of your equipment. 
1. Enter a studio, and click Settings.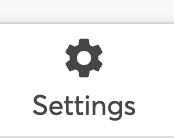 2. Click on the Audio tab on the left.

3. Check to make sure the correct mic is selected from the dropdown menu. Then, adjust your settings so that "Echo Cancelation" is OFF, "Reduce mic background noise" is OFF, "Stereo Audio" is OFF, and "Automatically Adjust Mic Volume" is ON. This combination of settings will remove most audio processing. Make sure you're wearing headphones if you turn echo cancellation off.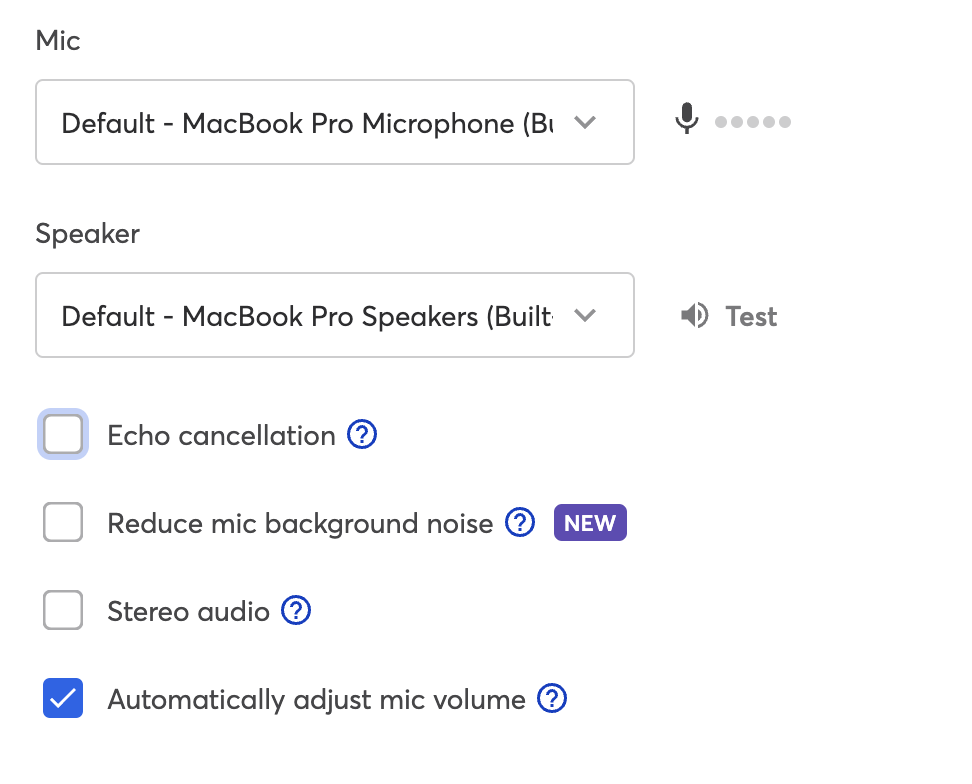 Check your Mic Settings
StreamYard streams in 44.1 khz. Sometimes, if your mic sample rate is set to a higher value, audio artifacts can appear in the stream. 
Mac
1. Click on the search icon in the upper right hand corner of your desktop, and type Audio Midi Setup to bring up the Audio MIDI Setup menu.

2. Select your microphone from the left, and next to Format, choose 44,100 Hz.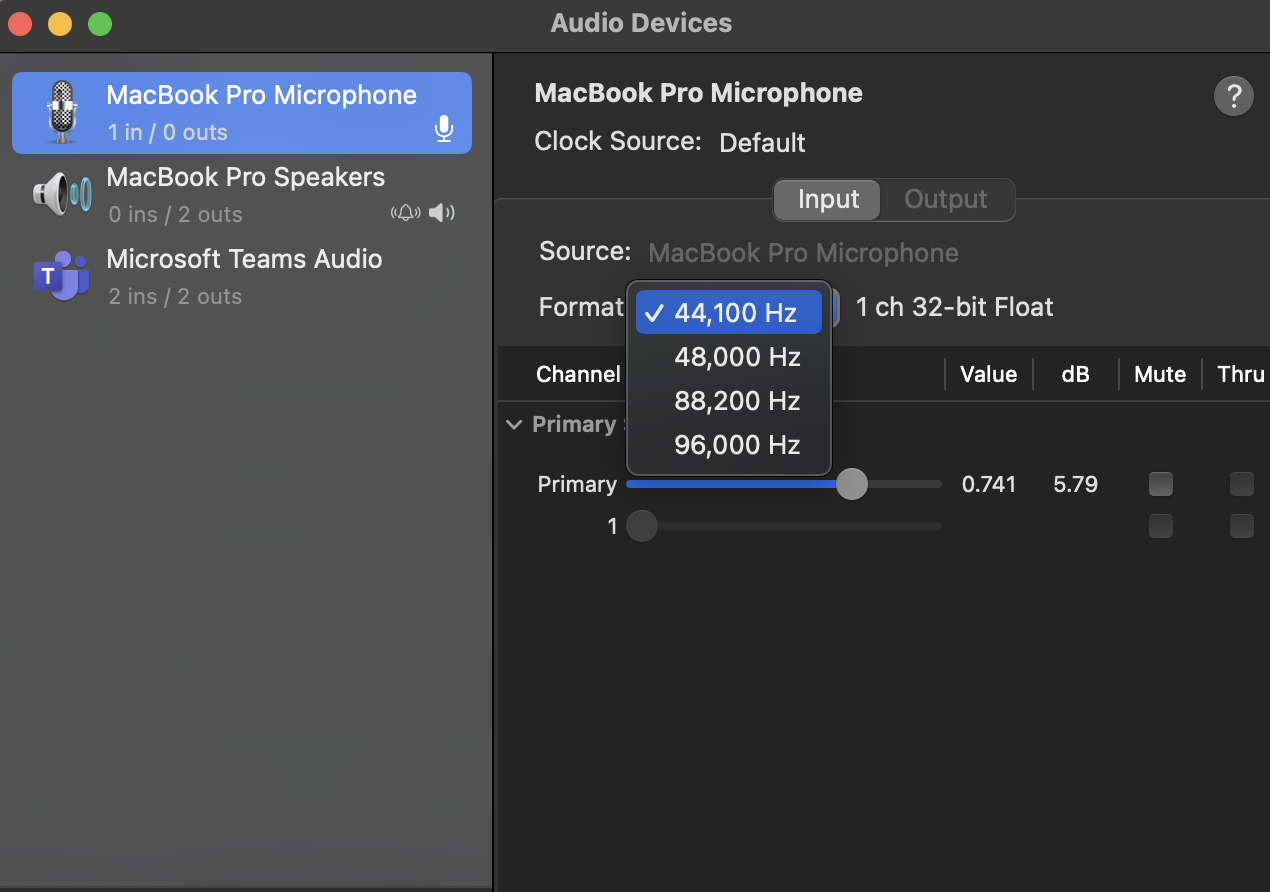 Windows 11
1. Right-click on the Speaker icon in the taskbar.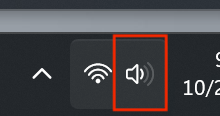 2. Select Sound settings.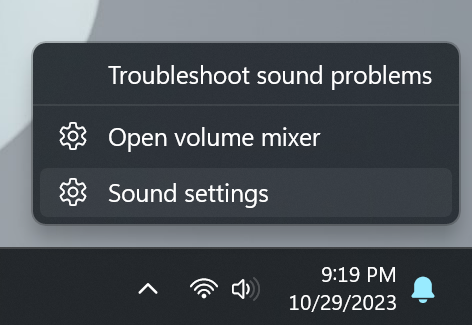 3. Click on More sound settings (In Windows 10 this may be Sound Control Panel).

4. Click on the Recording tab.
5. Right-click on the device and select Properties.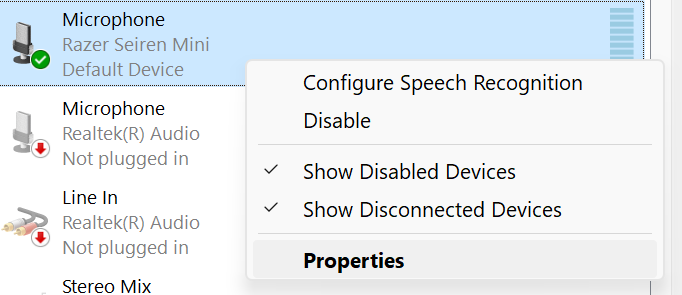 On the Advanced tab, select 44100 Hz:

Audio Drivers
Certain audio devices come with companion driver software that the company frequently provides updates for. Check your manufacturer's support website for any updated drivers you can install, and make sure to restart your computer after an update. 
Mobile Devices
Technically external mic devices are not supported on mobile devices at this time. However, if you are using a "call device" (such as Airpods/wired earbuds with a mic), or your mic is connected to your device via TRS to TRRS, you will be able to use it. More information on that here. If your external mic does not follow these guidelines, you may be unable to use it, or encounter issues while using it. 

Using Mobile Safari on an iPad? You may be affected by a Safari bug on iPads which can add clicking/popping artifacts in your stream. Make sure your device is updated to the latest version, and try restarting the device fully. 
We're here to help!
Still having issues? Reach out to our 24/7 customer support team here. We're happy to help.