StreamYard now has built-in background music!
Use it to add some ambience to your streams, or to keep the flow during an intermission.
Here's how to use it
From inside a broadcast studio, click the Brand tab on the right.

Scroll down to the Background Music section.

To play a song from the list, simply click on it.
To stop the song, click on it again.

Use the slider to adjust volume, and check/uncheck "Loop" to make the song repeat, or end once it's finished.

Music is automatically synced between all participants and the stream. It can be controlled by the host, admins, or co-hosts.
Can I upload my own music?
Yes! To upload your own music:
Click "Add music" at the bottom of the Background Music section.

Click "Add music" again, or drag and drop an audio file onto the upload box.

Once your music is finished processing, it's ready to be played!
Music uploading FAQ
What file types can I upload? Most audio file types are supported, including .mp3, .ogg, .m4a, .aac, .wma, and .wav
How large can music file uploads be? On our self-serve plans (Free, Basic, Professional, Premium and Growth), the max file size for a music upload is 30mb. It is 50mb on the Business plan.
Can I use copyrighted music? StreamYard does not provide any protection against copyright claims for using copyrighted music. To avoid stream takedowns/claims, we recommend using royalty-free music, or music you own the rights to.
​​Can I fade out background music when turning off a track?
Yes. You can fade in and fade out background music. To enable this feature, simply click on the icon next to "Loop" that looks like bars as shown in the image below: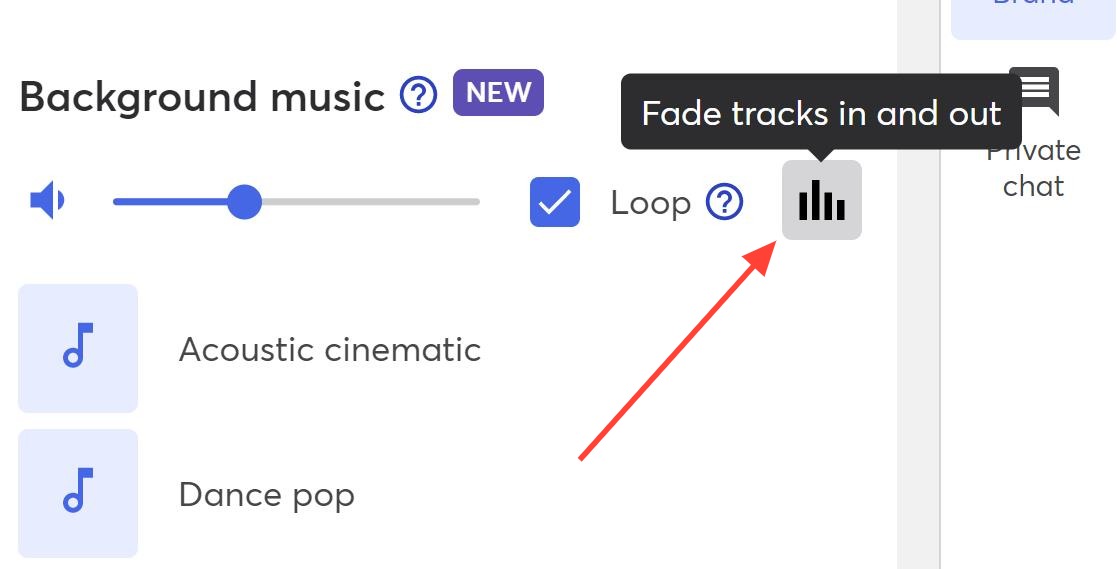 When the feature is on, it will be highlighted in gray. After that, when you click on a track to play it, it will fade in and when you click on it again to stop it, the music will fade out. It will also fade out when the track ends on its own.
More information on background music
Default Music Tracks
"Daydreaming" (3:50) -

Graphic Melee

"Night driving" (3:38) - Graphic Melee
"Feeding the ducks" (1:47) - Jesse Hunt @ Hopin
"Into space" (1:07) - Chris Bot @ Hopin
"Acoustic cinematic" (5:18) - Will Bradford (SeepeopleS)
"Dance pop" (4:03) - Will Bradford (SeepeopleS)
"Lofi" (3:48) - Will Bradford (SeepeopleS)
"Rock" (2:59) - Will Bradford (SeepeopleS)