Yes! StreamYard runs completely in your browser, so in general it can work on almost any operating system, including most distributions of Linux!
We have tested some of the most popular distributions (with their default configurations), and outlined common issues below.
Tested distributions
Ubuntu 20.04: Working, no issues in Firefox or Chrome.
Ubuntu 21.04: Working, no issues in Firefox. Chrome on Wayland needs an additional step for screensharing entire screen.
Debian 10.10: Working, screen sharing does not work in Firefox (ESR or Stable), or Chrome, on Wayland.
Debian 11: Working. Firefox requires a newer version for screensharing entire screen on Wayland (ESR is too old), install Stable from Mozilla. No issues in Chrome.
Mint 20.2: Working, no issues in Firefox or Chrome.
Known solvable issues
Screen sharing in Chrome while using Wayland shows a black screen when choosing "Entire Screen":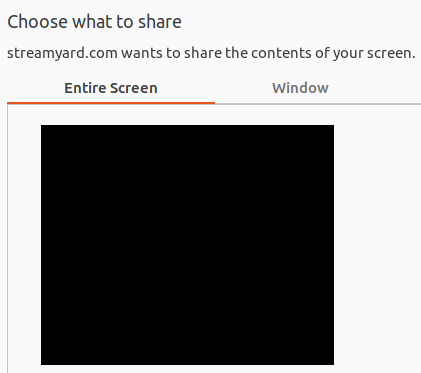 To fix, paste chrome://flags/#enable-webrtc-pipewire-capturer into Chrome's address bar, hit enter, and change "WebRTC PipeWire support" to "Enabled".


Restart Chrome, and now when choosing "Share Screen", Wayland's native Screen Share dialogue should come up. Choose your display, click Share, and it should work as normal: