With a Basic or Professional plan, you can record without streaming!
When creating a broadcast from the Broadcasts page, simply choose "Skip, Record only":

While you can't schedule a "Record only" session the same way you can a stream, you can still create the broadcast studio, and send out the invite link in advance!
Create the Record only studio as shown above, then just go back to the Broadcasts page. You should now see your Record only studio on that page. You can get the guest invite link by clicking the 3 dots next to the studio, and click "Invite a guest":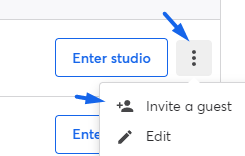 Once you're ready to enter yourself, just click "Enter studio".