Instead of screen sharing your video, you can now share it directly from your computer! This feature is available on all plans (paid and free).


How to Share Long Form Videos:
1. Inside the studio, click the "Present" button (this used to say Share Screen).
2. Click "Video file," then select the file from your folder on your computer (MP4 and MOV files). It will automatically be added to the stream (unless you disable this in settings). You can pause, play, scrub through it, and change the layout!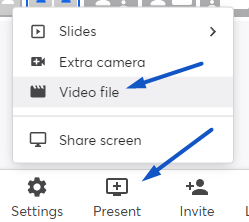 There is NO file size or length limit!

Benefits of Sharing Video
Unlike screen sharing, this feature was built for sharing videos -- the quality of your video should increase greatly. You can now share an unlimited amount of videos -- unlimited in count, size, and length. You can even queue up several videos to be played, like in a playlist.

Note: unlike the Video Clips feature these video do NOT get saved to your account. The purpose of this feature is to share a long pre-recorded segment into your live stream or live event, or talk about a specific video with your guests.
Video Sharing FAQs
Are my video files automatically added to my broadcast?Yes, they are automatically added to your broadcast. You can turn this off by going to Settings > General > Uncheck the box "automatically add shared screens / videos to stream."

How do I control the video in the stream?

When you hover over the video in the stream, you can click to play, pause, fast-forward, rewind, and control audio volume and mute functions.

Are shared videos saved if I exit the studio?

No, if you leave your studio or refresh the page, any shared videos will be removed and you will have to add them back.

What types of videos can I share?

MP4 & MOV files work best.

Is there a limit on file size or length?

There is NO limit on file size or length when using the "Share Video" feature!

Can I build a playlist of videos?You can queue multiple videos (up to 10) and manually play each sequentially. These will not auto-play as a playlist would. Note: the "Automatically add shared screens/videos to stream" box in settings must be disabled to achieve this.

Can I talk over the video?

Absolutely! This feature is great for talking over a video, or discussing a video with your guests.

Can we show pre-recorded video as live sessions?

Yes you can! You can't make your video "go live" without you, but you can go live and only share pre-recorded videos. Each platform has certain rules around this -- some destinations don't like pre-recorded content being shown as live. Make sure you're following the Terms of Use and rules of the platform(s) you're streaming to.

When should I use share video in my broadcast?

To help you learn when to use the share video feature versus the screen sharing or video clips options, review this

comparison chart

.