StreamYard automatically records all live streams on the paid plans. In order to download your recordings, you will need to be on a paid plan, but you can embed your recordings on all plans.
StreamYard now saves your recordings permanently! You can store up to 50 hours by default on the Basic and Professional Plan. Additional storage is available as an add-on.


How to Download Your StreamYard Broadcasts
1. Go to your Past Broadcasts section on StreamYard
2. Click the 3 dots and select the "Download Recording" option. You can choose to download the full recording, or just the audio file.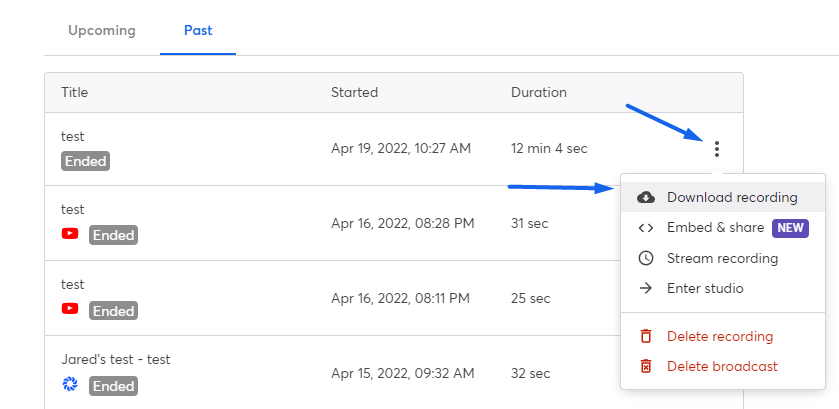 What is storage?
Storage refers to the amount you have available to store your recordings (in hours).
How does it work?
Each plan has a default amount of storage hours:
Free: 5 hours
Basic: 50 hours
Professional: 50 hours
As you broadcast, those recordings are saved. The length of those recordings then count against the amount of available storage you have. Each plan saves a different maximum length for each stream:
Basic: First 6 hours
Pro: First 10 hours

When you exceed your hours, you will still be able to broadcast, but recording will be temporarily disabled. To re-enable recording, you'll either need to add on hours via an add-on, or delete some of your recordings to free up space.
Can I add hours to my plan?
If you're on Free plan, you will have to upgrade your plan to a paid plan to add more hours. If you're on the Basic or Professional plan, you have the ability to add hours via the storage add-on.
How does the storage add-on work?
By upgrading or downgrading, you're replacing your available amount of hours/storage. For example, if I'm on the Professional plan and have 50 hours, and I purchase the 200-hour option, I will now have 200 hours.
How much does additional storage cost?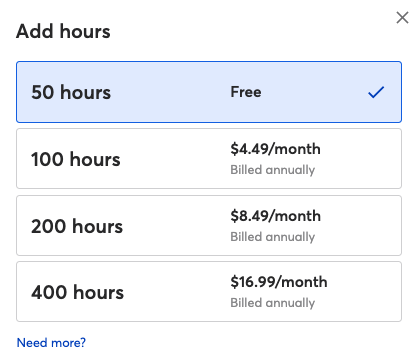 How is the storage add-on billed?
Since storage is an add-on to your plan, it renews and expires when your plan does. If you have a monthly paid plan, and you add on hours/storage, the amount due at the time of purchase is determined by where you are in your month, and will renew at the normal monthly rate at the start of the next month.
If you have an annual paid plan, and you add on hours/storage, the amount due at the time of purchase is determined by where you are in your plan's yearly billing cycle and will renew at the normal yearly rate when your annual plan renews.