Yes, you or your guest can join a live stream or recording on StreamYard with just your audio! There are two ways to do this, depending on whether or not you want an image avatar to be visible in the stream.
Audio-Only with an Avatar
1. Click Add to Stage on your backstage card to add yourself to the stage.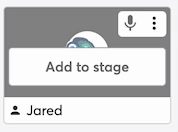 2. Turn off your camera by clicking Stop cam. This will put you into the audio-only mode.

3. Click the 3 dots in the top-right corner of your backstage card to change the avatar image that viewers see.
Your viewers and guest will see your avatar pulse when you speak. 
Audio Only without an Avatar
If you'd prefer to join without an avatar on screen, you also have the option to turn that off entirely, and join the stream with only your audio. To do that, head to Settings > General in your studio and uncheck Audio avatars. Now when you're added to the stream your viewers and guests can hear you, but they cannot see you at all.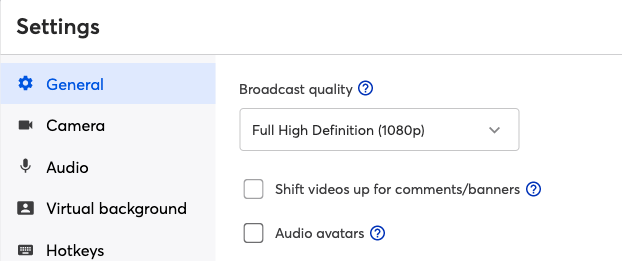 You will see a message that says, "You are now in the stream with audio only".