Pausing your paid plan is possible with StreamYard and it can be paused for up to 3 months! During this time, you won't be charged, you'll still have access to your recordings as well as other assets, and you can choose to restart your subscription at any time!
You can use the following direct link https://streamyard.com/plan/pause to pause the account or you can follow the steps below:
Log into your account. (You must be the owner in order to access the billing information).
Click on "My account" at the top right.
Select "Billing".
Select "Change plan".

Select "Choose free" at the bottom of the Free plan.
Next, click on "Yes. Cancel and lose benefits".

Check the box next to "It's temporary, I'll be back" then click on the "Pause plan" button that appears.

Select the duration. You can choose 1 month, 2 months, or 3 months. Your plan will be paused at the end of your billing cycle and you can see when it would automatically restart before you go ahead to pause it.
Click on "Pause plan".

That's it!
Important: If you try to go live when your subscription is paused, you will be prompted to resume your plan in order to do so. If you resume it, your subscription is renewed and you will be charged.
How to resume your paused plan
You can resume your plan before the pause runs out and resuming your plan is quick and easy.
There will be a banner at the top of the page while you're logged into your account. Click on the Resume plan button in the banner.


Next, click on "Resume plan" in the window that appears to confirm.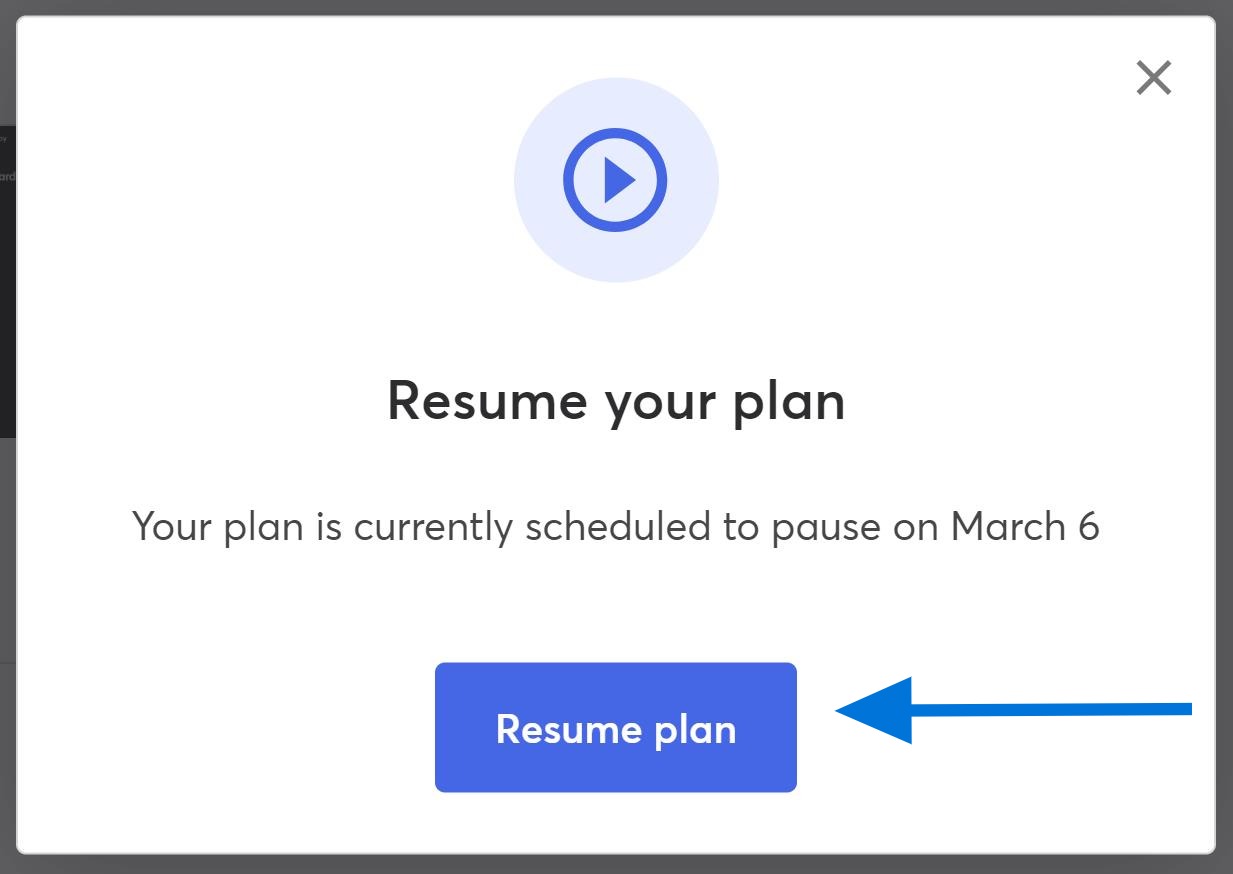 The differences between pausing and canceling your subscription
Pausing your subscription is different from actually canceling. Pausing the plan allows you to put a hold on payments for a set time after which the plan will automatically restart. You'll have access to the paid features except for going live when on pause. On the other hand, canceling ensures that you won't be charged again in the future unless you manually re-upgrade once more. You will lose access to all the paid features including your recordings in this case. Don't worry though, your recordings will still be there when and if you upgrade or you can download them before canceling.

Please see the table below for a further breakdown of the differences:
| | | |
| --- | --- | --- |
| Features | Paused Subscription | Canceled Subscription |
| Can be initiated within your account | Yes | Yes |
| Can be done by Support for you | No | Yes |
| Duration | 1, 2, or 3 months. | Indefinitely unless you re-upgrade manually. |
| Access to recordings and paid features | Yes | No |
| Can go live | No | No |
FAQs
Can I go back and cancel my plan after pausing it?
Yes. You can cancel your plan while the account is on pause if you decide that you'd like to cancel instead. Check out our help article on canceling for more details.

Can I extend the duration of my pause?
No. The pause cannot be extended if the billing cycle for the paid plan has ended. However, if you are still within the billing cycle and the pause hasn't kicked in as yet, you can resume the plan, then pause it again for longer. The maximum is 3 months.

Will I be notified by email when my pause is about the end?
Not at this time. We'll always show you a banner at the top of your account that tells you when it will end. You could also set a reminder on your calendar to track it personally.

Why don't I see the billing option under "My account"?
This means that you're either on our business plan or not the owner of the account. Reach out to our team here for more info if needed.

Why can't I pause my plan?
This may be because you are on a free plan, or you are on a free trial of a paid plan. However, if you have a paid subscription and you are unable to pause it, it may be because the subscription is in the renewal process. If that is the case, you may reach out to our support team for help by going to streamyard.com/contact. We are open 24/7.