StreamYard On-Air is the easiest way to create webinars. 
StreamYard On-Air is a live webinar platform. Host a webinar, live stream, or event on StreamYard, or embed it on your website. Optionally collect email addresses and other information through a registration form that can be customized. No downloads are required!
Why use StreamYard On-Air for your webinars? 
Redefining webinar stability
Sick of having issues with your webinars? StreamYard On-Air is as stable as platforms like YouTube Live, but with all the features of a webinar platform.
Use the production studio trusted by millions
Interview guests, share your screen and slides, brand your broadcast, show comments on screen, and much more. Millions of people use StreamYard's studio every month for their live streams and webinars.
Collect emails and other information with a customizable registration form
You can choose to collect names and emails from your viewers and other information as well. Viewers don't need to create an account. Learn more here.
Embed for full customization
Looking to fully brand the webinar experience for your viewers? You can choose to embed the webinar on your website. Click here for more details on how to achieve this.
The best doesn't have to be expensive
Whether you're streaming to ten viewers, or ten thousand, our plans are the most competitive out there. Feel free to take a look for yourself.
How to create a StreamYard On-Air webinar
In the StreamYard Home page, click "Create."

Select "On-Air webinar."



Select either "Studio" or "Pre-Recorded" as the source. Most choose the studio to go live, but if you've already recorded a video (on StreamYard or elsewhere) you can also upload that and stream it as if it were live.

Add any additional destinations, if you'd like to multistream. This step is optional!
Note: At this time, you can only connect to an existing LinkedIn Event through On-Air when you are first creating it. You cannot go back to an already created On-Air to add an existing LinkedIn Event.


Enter your title and select the date and time. You can also choose to include a description for your webinar, but this is optional. 

Select your webinar preferences. These are optional. 
Registration

- Viewers must register by entering their name and email. After registering, they will be sent a link to join the webinar via email and the option to add it to their Google, Outlook, or Apple Calendar. They can also download the calendar as an .ics file for custom calendars.




Click "Create"! Your On-Air broadcast is now scheduled.



(Optional) Click on "On-Air branding and settings" to customize your On-Air as well as enable or disable Live Chat and the Available on-demand. Learn more about customizing your On-Air here.
Click on "Continue".
Registration
Once you have created your On-Air broadcast and viewers have started registering for the webinar, you can view and manage the list of registrations. Use our default registration form or add custom fields to collect registration information. This can be accessed by clicking "manage registrations" which is available both in the studio and from the StreamYard Home page, by clicking the 3 dots next to your upcoming webinar. To export this list, click "Export" in the top right. You can also click the three dots next to a registrant to remove them. 

The information that is displayed here will contain, the first and last name of the registrant, their email address, the date and time that they registered, and their attendee status. If you used custom registration fields, you can click on the three dots and select 'View details' to see more information. A breakdown of what each status means can be found below:
Registered: This person completed the registration process for the On-Air broadcast before, during, or after the webinar.
Attended live: This person registered, attended, and watched the broadcast for at least 30 seconds while it was live. This status will be shown only after the webinar has ended. 
Watched on-demand: This person registered and watched the recording after the broadcast ended for at least 30 seconds. 
It's important to note that if the viewer attended the webinar live, and then came back to watch on demand, the status will remain at 'Attended live'.
Exporting Your On-Air Chat History

To download your chat history: 

Access your past streams and recordings.

Click on the 3 dots of the On-Air broadcast you'd like the chat history from.

Next, click on "Download".

Click on the 'On-Air webinar chat messages CSV' download button.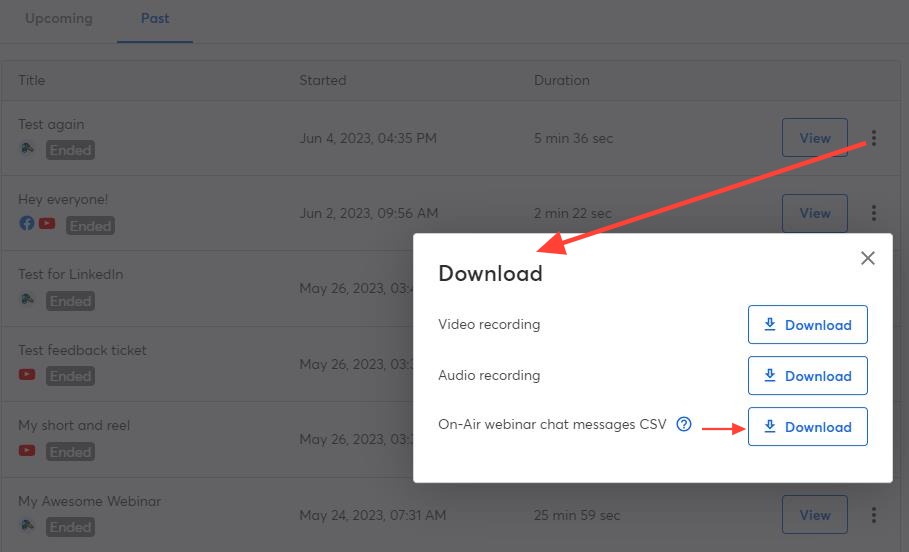 The exported file will include the name and email address of who sent the message, the message itself, and when it was sent. 
FAQs
Can I embed the webinar on my website?
Yes! You can embed the StreamYard On-Air Webinar along with the live chat on your website if you want to fully customize the viewer experience. Learn more about embedding On-Air onto your website here.
How can I engage with my attendees?
Viewers watching the webinar on StreamYard can engage with the chat. The live chat opens 10 minutes before the start time and closes 10 minutes after the broadcast on both the watch and embed page.

Can people watch the webinar after it is live?
Yes! You can enable the "available on-demand" setting to allow your attendees to view the webinar after it's live. You can turn this setting off at any time if you don't want the recording to be available anymore.
Additionally, an email will be sent to attendees containing a link to watch the recording. It is usually sent out within 5 minutes after the webinar ends and will only be sent if registration and the ability to watch on-demand were enabled for the webinar.
Will emails for StreamYard On-Air be sent from the host?
No. Automatic emails for StreamYard On-Air will show as being sent by StreamYard from the email address yourfriends@onair.streamyard.com. 
Is there a limit on how long your webinar can be?
There is no limit to the length of StreamYard On-Air! There is a limit on the recording, which is 10 hours (up to 24 hours on our Business plan).
Can we charge for admittance?
The first version of StreamYard On-Air does have registration, but not paid registration. We will add this in the future, but right now the only option to add paid registration is to embed the StreamYard On-Air webinar on your site behind a paywall of some kind.
Is there an easy way for me to see how many people have registered for my On-Air?
Yes. You can view the registration count for your scheduled On-Air within the account's Home page or within the respective space if you are on the Business plan. In the example below, 4 people have registered.


How often will attendees get reminder emails for my webinar?
Viewers who register for your webinar will get a confirmation email right when they register, one reminder email 24 hours before the stream, and one reminder email 1 hour before it starts.
Here is a detailed cadence of emails that get sent to registrants:
All registrants receive a confirmation email immediately upon registering
Registrants who register at least 24 hours and 15 minutes in advance will receive a reminder email 24 hours before the webinar
Registrants who register at least 1 hour and 15 minutes in advance of the webinar will receive another reminder email 1 hour before the webinar.
Can I turn reminder emails off? 
No, but you can turn off registration so that reminder emails will not be sent.

Will reminder emails still be sent if I reschedule my On-Air? 
Yes. If the newly rescheduled date/time is more than one day or one hour from the current time, the respective reminder emails will be sent. If the newly scheduled date/time is within those windows, then the corresponding reminder emails will not be sent. 
For example, if your newly scheduled time is 4 hours from now, then the 24 hour reminder will not be sent, but the 1 hour reminder will be sent.
Can I customize the reminder emails/registration page for my webinar? 
No, at this time it is not yet possible to customize the body of the reminder emails that are sent. However, you can customize the color scheme of the email and registration page and even add your logo! Learn more about customizing your On-Air here.
Will registered attendees be notified that an On-Air broadcast was rescheduled or canceled?
Not at this time. You would be required to notify them manually by email. You can quickly export the registrants' information including their email addresses to do this. 
Can I customize the waiting screen background for my webinar?
Yes, when setting up an On-Air webinar, click "Upload thumbnail image" and select your custom background image. This will be used as the waiting screen when your webinar is about to start.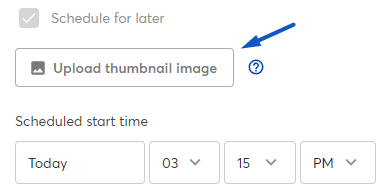 Is there a viewer limit?
Yes, each plan has a specific viewer limit. It is 250 on the Pro Plan, 1000 on the Premium Plan, and 10,000 viewers on the Growth Plan. 
Our Business plan starts at 10,000 viewers and can be upgraded to a maximum of 100,000 viewers. Please see our pricing page for more details!

Does my webinar viewer limit also affect the number of registrations I can have?
No, it does not! The On-Air viewer limits only affect the total amount of concurrent viewers you can have watching a webinar, and not the number of total registrations you can have for that webinar. 
Do I have to download software?
No! StreamYard is browser-based which means you and your viewers don't have to download anything.
Do my viewers need to have a StreamYard account?
No! Even if you choose to enable registration, they won't need to create a StreamYard account.
When joining a webinar as a viewer, can you change your commenting icon or name?
No, not yet, but please watch this space as this is something we are developing. 
Can hyperlinks be shared in the chat?
Yes. Hosts can post hyperlinks in the chat from within the studio. Guests and viewers are unable to post hyperlinks.
How do viewers enter their names if registration is not enabled?
If you don't have registration enabled, before joining the chat users will be prompted to enter their first and last name.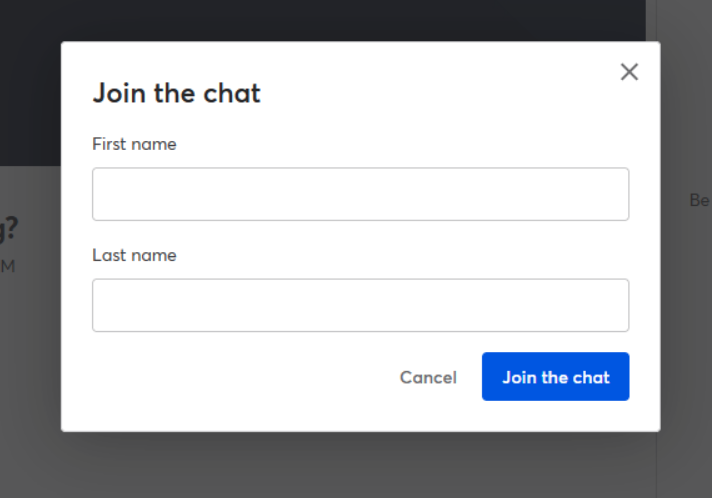 What language will be seen on the registration page and reminder emails?
The registration page translates to whatever language is set in the attendee's browser. Emails will be the language the attendee had their browser set to at the time of registering for the webinar. If we don't support their language setting, it will be English by default.
What happens if the scheduled start time for my webinar passes and I haven't gone live as yet? 
We will show a message advising viewers that the stream will be starting soon. This will also show over your On-Air thumbnail if you added one!
If I stream my On-Air to other destinations, will they be registered?
No. Attendees are required to manually register on the registration page for your On-Air (if enabled) to be counted as a registrant.