StreamYard offers the ability to repurpose your recorded content, and publish videos that are up to 60 seconds long to Youtube Shorts, Instagram Reels, and Facebook Reels!
Add your Shorts/Reels Destinations
In order to post your videos as a Short or Reel to a social media platform, you will first need to add it as a destination in your Destinations tab.
1. Click over to the new Shorts/Reels section.

2. Select your desired destinations, and log into your respective accounts to connect them to StreamYard. Note- An Instagram account will need to be both a business account, and connected to a Facebook Page in order to be added successfully. More info here.
3. If your destinations are added successfully, you will see them listed in your Destinations tab. If you have a destination added for both live streaming and shorts/reels, you will see that indicated here as well.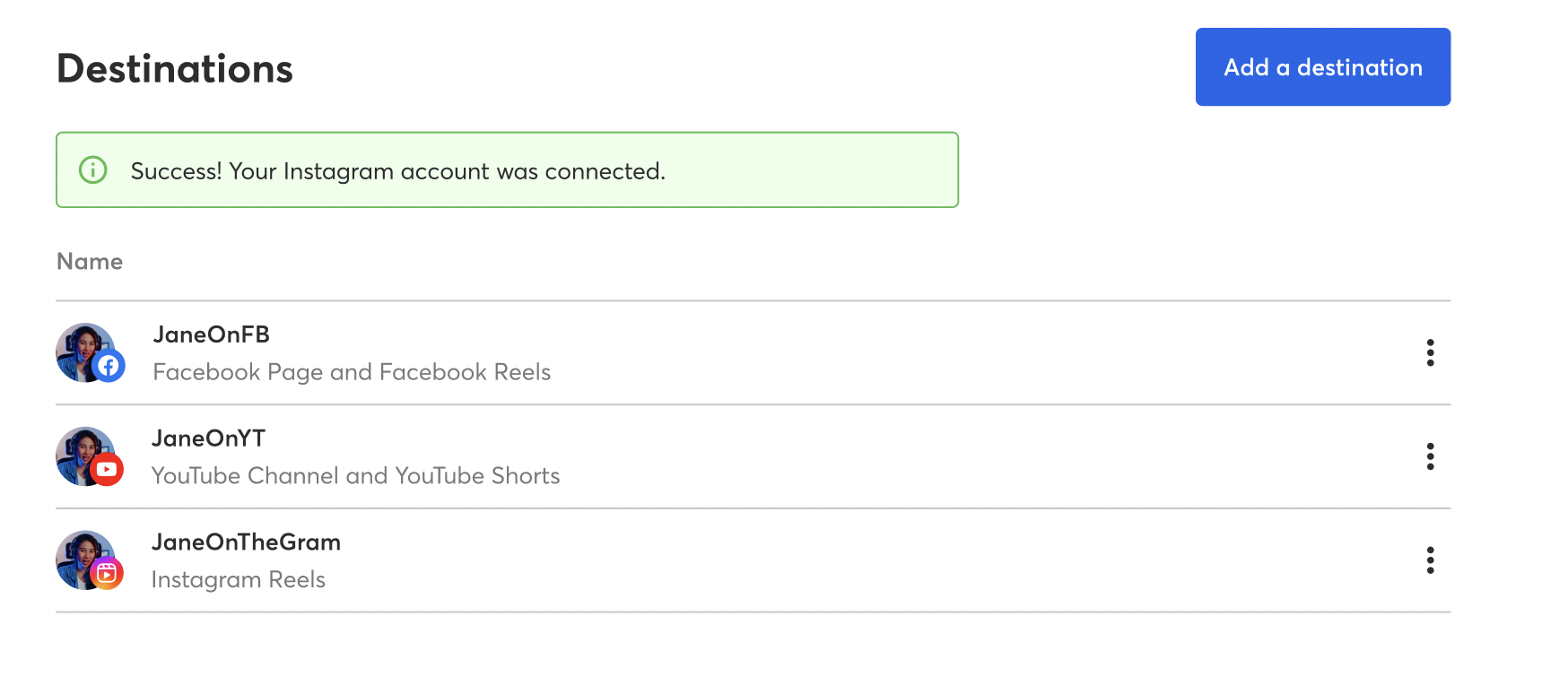 Create and Publish your Short/Reel
1. Open the video from your video library that you would like to turn into a Short/Reel, and click the "Trim & Repurpose" button.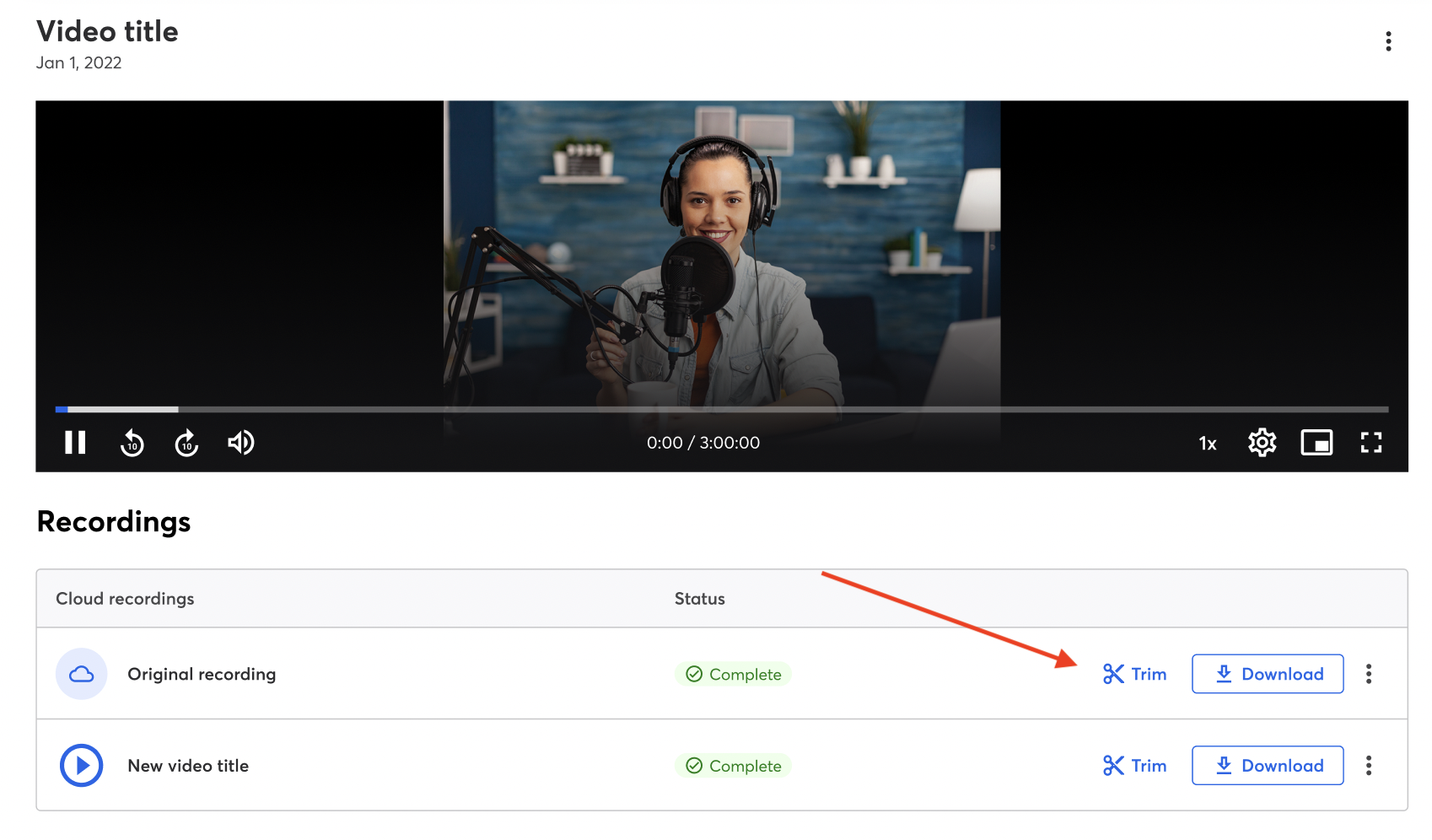 2. In the menu that appears, click Shorts/Reels.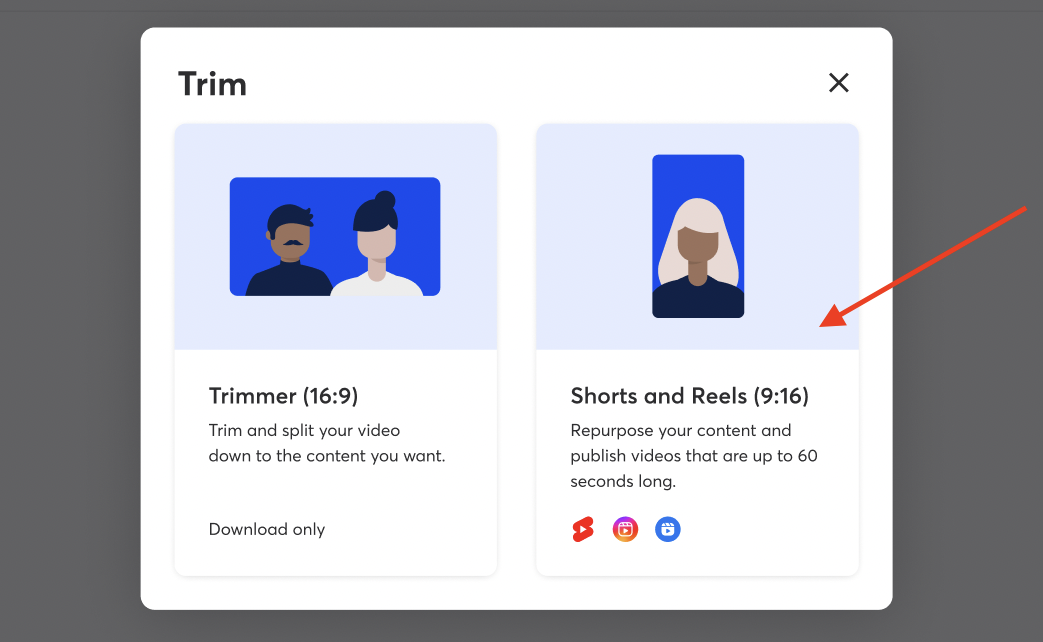 3. Trim your video to your desired length by dragging the edges of the blue box to highlight your selection. Shorts/Reels can be between 5-60 seconds long. StreamYard will convert the video into a 9:16 vertical format by adding black bars to the top and bottom of your video.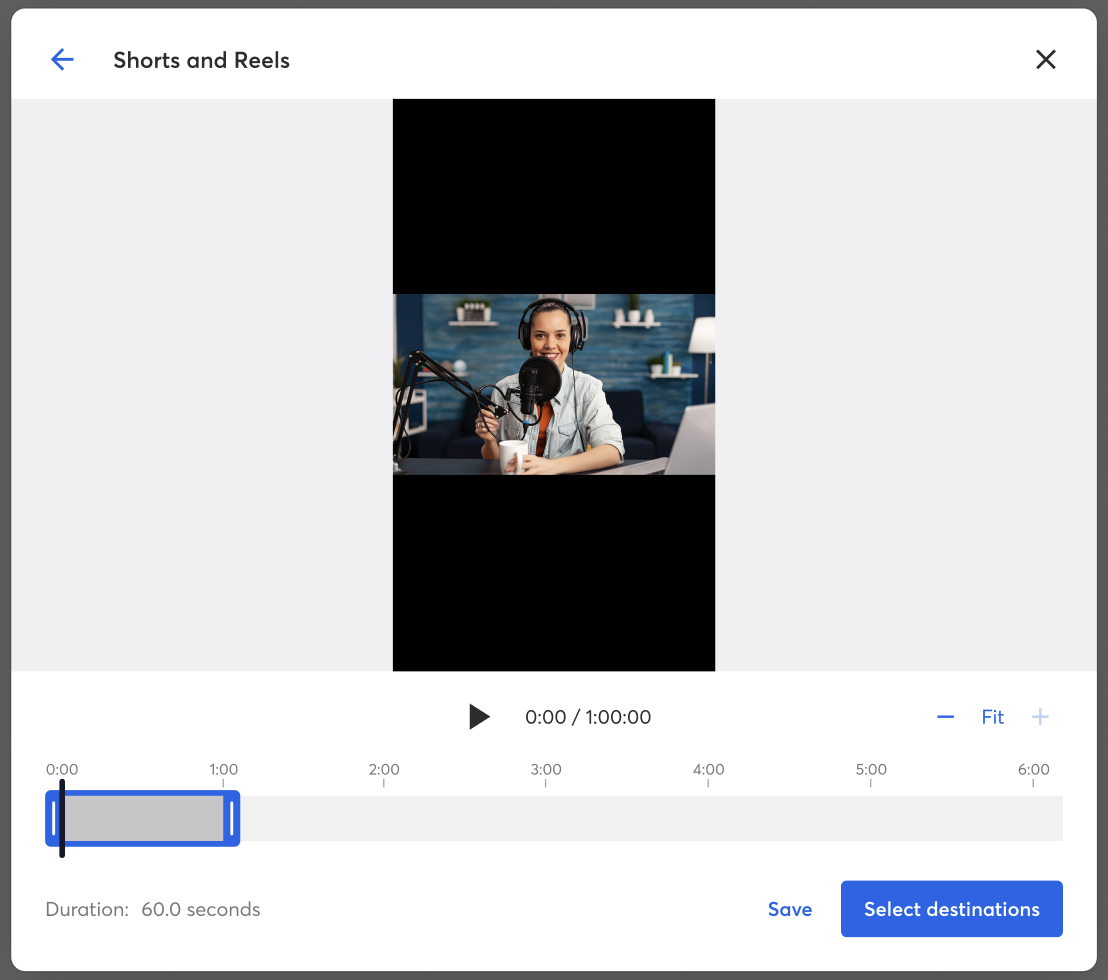 4. You can use the + and - buttons to zoom the video timeline in and out. The Fit button will fit the full timeline on screen.

5. After trimming your desired portion, if you would like to save the clip for publishing at a later time you can click the Save button. If you would like to publish the Short/Reel immediately, you can click Select Destinations.
6. Select the destinations you would like to publish your Short/Reel to by clicking on the icons to highlight them. In this menu, you can also write a description for your video.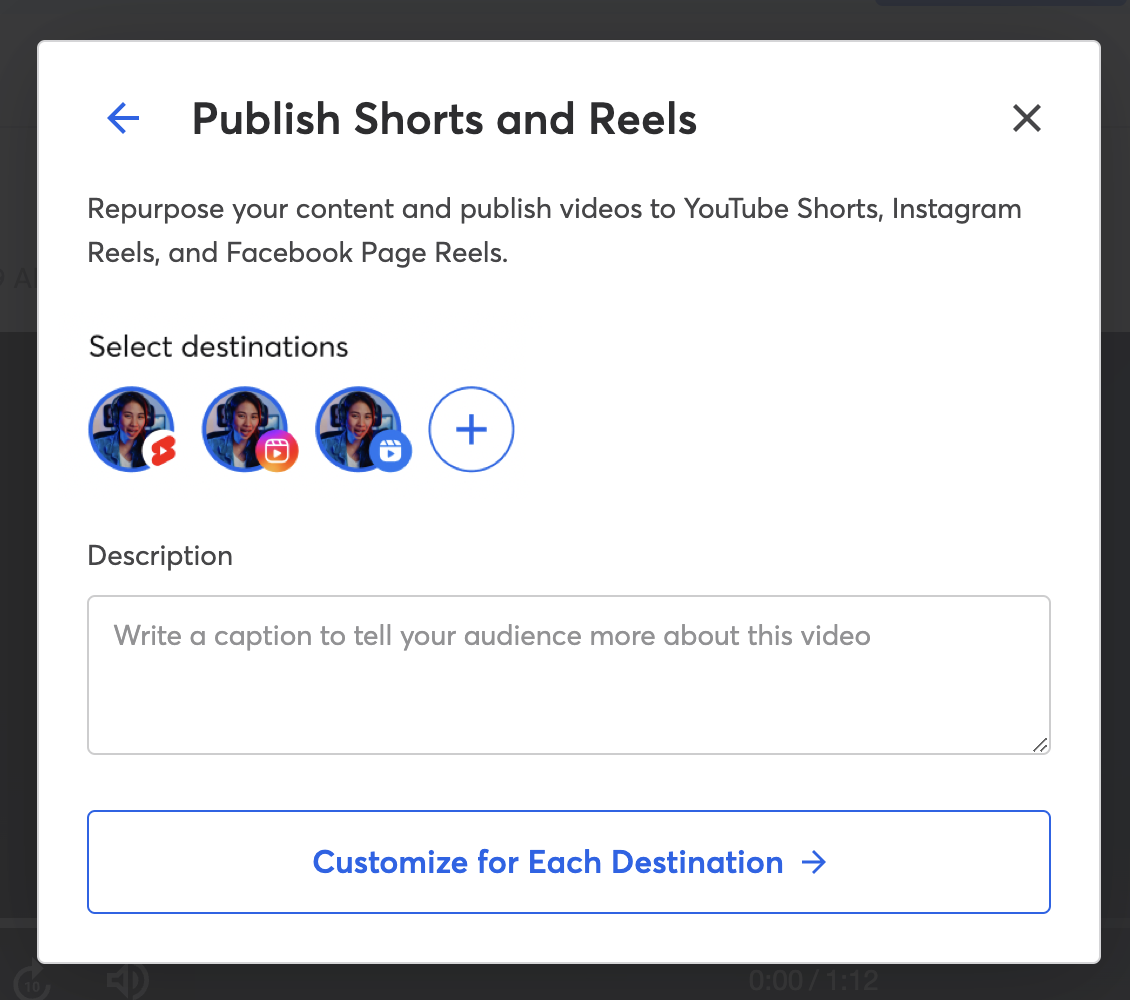 7. Click Customize for each destination to proceed. Here, you can customize the description for each selected platform if you desire. Once you are done, click Publish to publish your Short/Reel!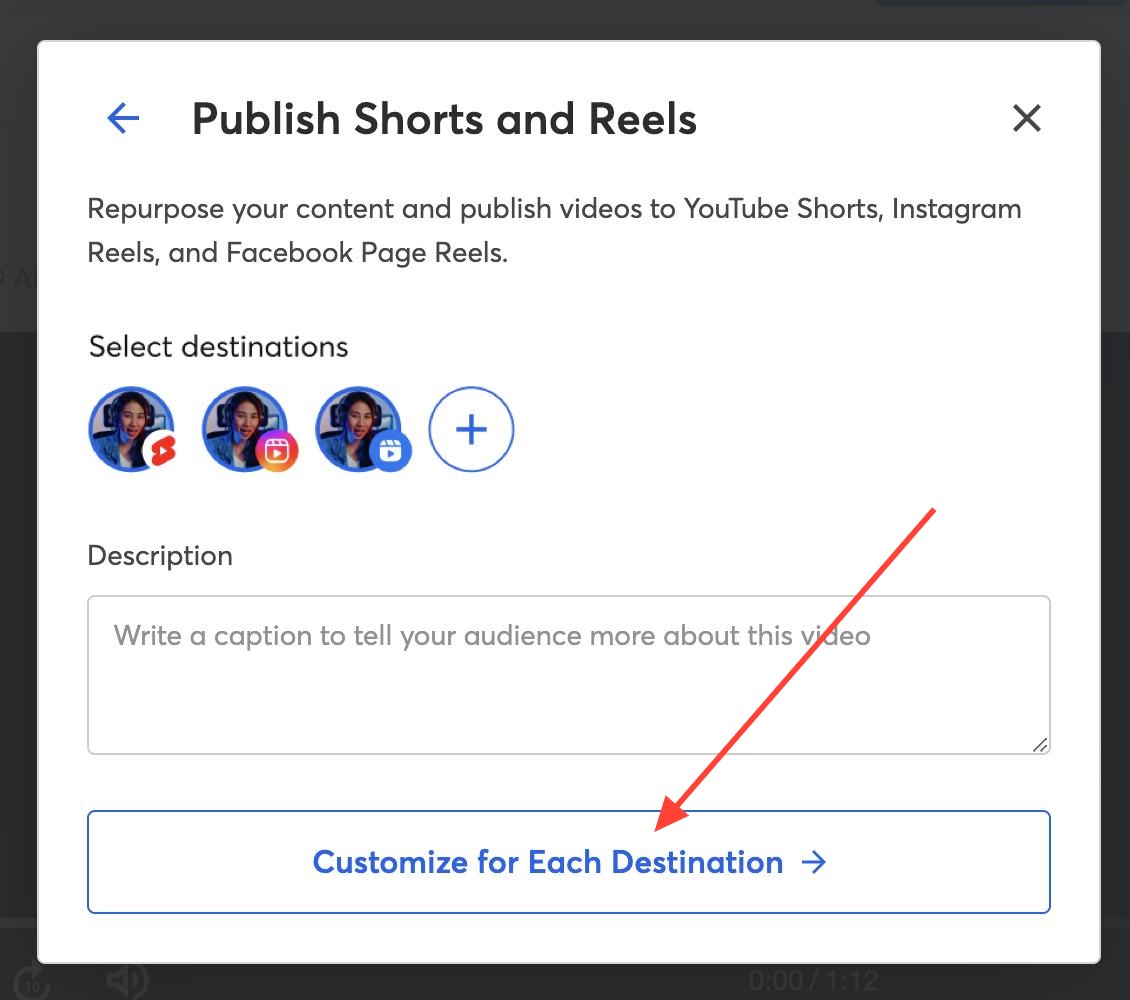 8. After your Short/Reel is published you will see it listed among your other recordings in your video library. If you want to download it, click the Download button. Clicking the three dots on the right will allow you to view your Short/Reel on the platforms they were published to. If you decided to save your Short/Reel for publishing at a later date, you can use this menu to publish it!

FAQ
If I already published my Short/Reel, would I be able to add another destination to publish to later?
If your Short/Reel is already published, you will not be able to publish it again. You can download the clip directly to your computer, and manually publish it to your platform of choice.
Can I create a Short/Reel longer than 60 seconds?
It is not possible at this time to create a Short/Reel that is longer than 60 seconds or under 5 seconds long.
Can I zoom/re-center my video so there are no black bars?
No, it is not possible to zoom or re-center your clip to remove the black bars at this time.
If I use the @ symbol in my video's description, will it tag that person?
Yes, including the @ symbol in the description of your short/reel will tag that person when it is published.
Can I use the split feature to use two different parts of the stream?
The split feature is not available while creating shorts/reels at this time. You are only able to trim your video selection to capture a consecutive portion of it.
Does this mean I can now live stream to Instagram and TikTok?
Unfortunately, it is still not possible to live stream directly to Instagram at this time, this feature allows you only to post video clips directly there.
Can I link my Facebook Page to my Instagram Account from Facebook?
No. This would need to be done directly on Instagram itself. More info here.